The original N64, launched way back in the 90s, was touted as the direct competitor to Sony PlayStation. The much-hyped next-gen console failed to impress fans and lagged considerably behind in sales. 
Nintendo even tried to market it as the lightning-paced console with the fast-loading cartridges but the era of CDs was knocking on the door. 
You can play classics such as Super Mario 64, GoldenEye, and The Legend of Zelda, amongst several titles on the Nintendo n64 emulator. 

Best N64 Emulator for PC
Project64
BizHawk
RetroArch
Mupen64 Plus
1964
UltraHLE 2064
OpenEmu
Nemu64
Sunset
1. Project64 
First, in the list of the versatile Project64, which is touted as the best N64 emulator for computers by many retro gamers.
The loaded games appear in a vertical list, which can be sorted by name, status(running, closed or paused), notes for core and plugins. Project64 1.6 is considered as the most stable version of the emulator that there is.
Although the newer version has many improvements but a lot of fans are reluctant in upgrading. 

As far as the shortcut keys are concerned, there is an option to assign as many as over 50 short cuts on the emulator. Meanwhile, the plugins for audio, graphics, and controller are pretty standard, loaded by the developers themselves.
Download Project64
---
2. BizHawk
BizHawk has made an appearance in an earlier post, talking about the best GBA emulators for PC. It is a multi-platform emulator, bundled with a powerful speedrun tool.
Secondly, there is a multi save state, slow motion, and advanced key mapping for playing different games that require keystrokes simultaneously at once.
On top of the speed-run tool mentioned earlier, there is a macro tool that can help automate certain things and steps in a game. 
Download BizHawk
---
3. RetroArch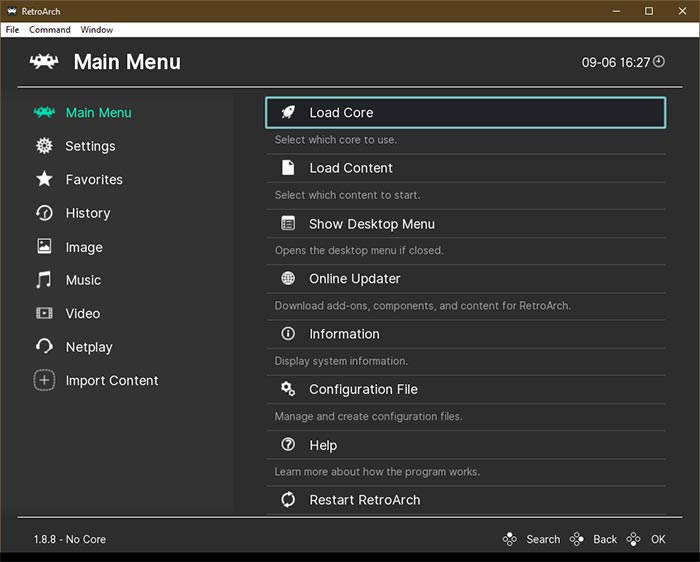 We have mentioned this gaming emulator in several of our earlier posts. RetroArch is powerful, multi-platform is also an N64 emulator for PCs.

The streamlined UI and easy-to-use interface is one of the highlights, amongst the list of the bland looking N64 emulators.

Secondly, there is Netplay support, using which you can play and host games online on servers.

On top of gaming, there is an option to play media such as videos, music; and view photos.
Download RetroArch
---
4. Mupen64 Plus
Even as one of the oldies, Mupen64 fails to disappoint. The veteran emulator has broad compatibility for N64 games, which is rare to see even in modern game emulators.
The rom browser on Mupen64 has an option to display more information about the full ROMs. Additionally, gamers can increase/decrease the speed of the game with the speedrun hotkey. 
Some games are enjoyed the most when played with others. For this reason, there is a Mupen64++ with Kaillera support, which allows games to be played online with other players.
Download Mupen64 Plus
---
5.1964
With an unconventional name, 1964 stands tall when there is a mention of an emulator with wide compatibility and support for games. It is an advanced version of Project64, with added support for Kaillera, which enables gamers to play online.

Apart from being an all-rounder, the interface offers over 25 languages. The rom browser can display a list of roms in a standard list or box art form. On top of that, you can display upto last 16 ROMs loaded onto the emulator.

The silver lining is the support for the most modern gamepads, such as Logitech's Rumblepad.
With the good things borrowed from Project64 bundled with online multiplayer support, it is amongst the best N64 emulator for PCs that works right now.
Download 1964
---
6. UltraHLE 2064
UltraHLE 2064 is an upgraded version of the first-ever successful PC emulator for N64.
While the original version stopped working because of graphics technicalities, the newer version has re-engineered it to overcome the compatibility issue.
The emulator is on the simpler side of things. You can play N64 games on PC without any extravagance. There are almost no settings apart from the plugins and the cheat panel.
In our personal test, it was able to run Super Mario 64 without any difficulty.
Download UltraHLE 2064
---
7. Sunset
A rather young and simple Nintendo 64 emulator for playing various compatible games.

For graphics, it relies directly on DirectX instead of a third-party plugin. Moreover, controls can be changed, but it is a rather tedious task of replacing one key at a time.
Users familiar with coding can use the debugger and compiler to play with the backend of the emulator.
Download Sunset
---
8. OpenEmu
Mac users can take a deep breath if they want to play N64 on their computers.
It is arguably the best N64 emulator for PCs, both Mac and Windows. The lone Nintendo 64 emulator Macs is also optimized for older Apple computers
Backed by a streamlined UI and user-friendly features, as we mentioned in our post on the best DS emulator for PC.  
With OpenEmu, users would not need to manually scan for ROMs of the games. It will examine the entire for you and list the games in a box-art form. 
Download OpenEmu
---
9. Nemu64
Last in the list of the best N64 emulators for PCs to play Nintendo games on the computer is an emulator with advanced Kaillera support.
Nemu64 relies on Direct3D, DirectInput, and DirectSound instead of third-party plugins to run games. There is a software mode available which is reported as slow for many users.
For players relying on the external help of cheats, there is Gameshark cheats panel. On top of that, freecamera feature is present that can be used to looked around on the game screen. All it does is it zoom into the part of the screen, with the camera keys panel.
Download Nemu64
---
Over to You
The list is endless for the best N64 emulators for PC, but we have listed down the ones that have the maximum compatibility amongst major gaming titles.