Gameboy Advance or as it is nicknamed, GBA, has changed the way handheld consoles are played around the world. It brought out a new-age of console video-gaming which was comparable to SNES of the last decade.
While Gameboy advance consoles are not available now, you can still play GBA games on the GBA emulator for Windows PC.
You will not require any special hardware to get it going either.
13 Best GBA Emulators for PC
Here is the list of the 12 of the best Game Boy Advance emulators for PC that we tested and found to be working fine.
Visual Boy Advance
Boycott Advance
Rascalboy Advance
No$GBA
BizHawk
Mednaffe
RetroArch
mGBA
KiGB
Higan
BatGBA
NeonDS
1. Visual Boy Advance
First in the list of the best GBA emulator windows is Visual Boy Advance. It is amongst the oldest, considered as the most stable Gameboy emulator available out there.
The emulator also sports support for older games and operating systems, providing backward compatibility. That means it has support for the original Game Boy and Game Boy Color, apart from GBA. You can also use cheat codes without any problem with the emulator.
Players can capture and record their gameplay as they progress in the game. They can also save the state of the game and reload it again so that you never lose game progress again.
---
2. Boycott Advance
This Gameboy Advance emulator has stood the test of time. It works for virtually all versions of Windows that we tested, starting from XP to Windows 10.
You can use autofire for upto five keys for use in the game. It allows automation of several moves in play, helping in completing achievements in the game.
There is an option to record audio from the GBA games as well. It can be used to record game music and other dialogues from the game in WAV, MP3 formats.
---
3. Rascalboy Advance
Rascalboy Advance is a simple, easy to use GBA emulator for PC. It has no extra features to confuse the user from the primary purpose of playing games.
The emulator supports Game PAK of Flash64, Flash128, and EEPROM, thus providing wide game compatibility.
You can play multi-player games on Gameboy advance emulator on your PC. There is a multi-player plugin available for the emulator as well. It allows upto four players on the same PC (same network).
---
4. No$GBA
Next on the list of GBA emulator for PC is No$GBA. It is the first Gameboy advance emulator to feature multiplayer, before Rascalboy Advance. They now offer a dedicated support/fix for playing Pokemon Multiplayer for GBA emulator, after many fans requested it.
The emulator features a wide variety of customization for enhancing your gaming experience. There is an extensive control setup to configure your controller and map your keys to your controller.
Apart from GBA, it also supports Nintendo DS emulation. Therefore you can also game Nintendo DS/Lite portable games on this emulator.
---
5. BizHawk
Video Game speed-runners would love this Game Boy Advance emulator. BizHawk features a Tool-Assisted-Speedruns(TAS). The tool-assisted feature for speedrun helps speedrunners complete the game without using any cheat, hacks. 
They use slow-motion, save state, and key-mapping to complete the game in a short time.
The multi-platform GBA emulator also features advanced features like Macro with a dedicated tool window, full-fledged editor console, and more. 
Apart from GBA games support, the emulator also supports the consoles of SEGA, Sony, Atari, and Nintendo.
---
6.Mednaffe
The next on the list is amongst the best Gameboy Advance emulator for PC. It is an open-source emulator, being jointly developed by voluntary developers.
Mednaffe is a multi-platform supporting console emulator that supports a wide range of older generation consoles. It is an easy front-end version of the feature-rich, command-line based Mednafen emulator.
Mednaffe supports "CUE" sheets, CloneCD "CCD/IMG/SUB", and cdrdao "TOC" file. Mednaffe supports standard cheats such as GameShark, Action Replay, and CodeBreaker. They can be accessed from the keyboard shortcut ALT+C.
You can play GBA games online with Netplay account. There is an option to host your own Netplay server as well, with password-protection.
---
7. KiGB
The emulator now we are talking about is the most simple GBA emulator on the Internet. It features a DOS-like graphical interface that gives MSDOS theme to the application.
There is a feature of settings for individual games to enable bug-free, smooth gameplay for each game. It is known as a custom palette and currently supports Game Boy only.
They have also added support for Game Boy Camera and Printer to emulate a similar experience, without the camera.
The only downside is no drag and drop facility for dropping your own ROM for loading into the emulator.You will need to locate the ROM from your hard disk manually.
---
8. Higan
The next member in the list of the best GBA emulator for PC is Higan. It is a multi-system emulator, majorly for old handheld consoles such as Game Boy Advance, Famicom, etc.
Higan creates a copy of your game's ROM in their own folder. The developer calls it "Game Park" , whose location can be changed. It also stores save states and save games in the same folder.
---
9. RetroArch
RetroArch is the most versatile Game Boy Advance emulator in terms of user interface and functionalities.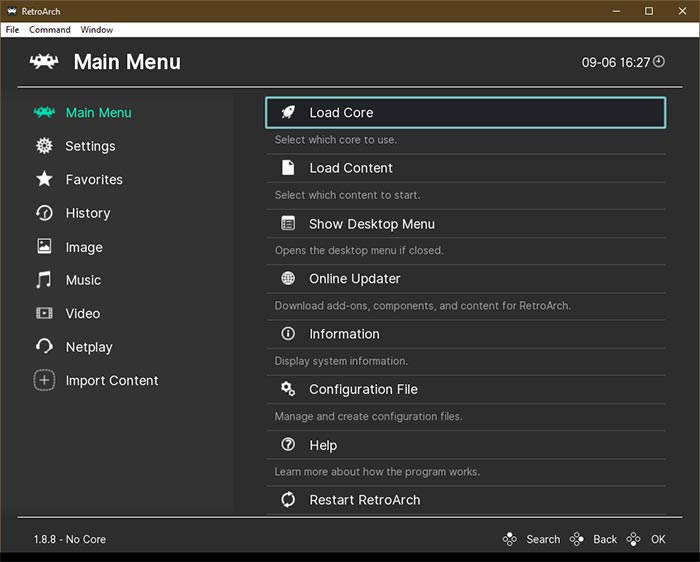 You can play around with an extensive range of settings such as latency, input, power management(for a laptop), gameplay record, and much more.
Moreover, just like Mednaffe, you can use Netplay to join and host GBA game servers for multiplayer. Besides gaming, you can also use multimedia functions such as playing music and videos, and using it as an image viewer.
---
10. BatGBA
BatGBa is a pretty light and simple GBA emulator for PCs. It has all the standard options that a regular console emulator must have to play games.
You can play ROMS of Game Boy Advance(GBA), GBC (GameBoy Color), and GB (Game Boy) on the emulator. The bottom utility bar shows FPS(Frames Per Second) for your game. It will help identify the compatibility of the game on this console emulator.
There is an extra feature to associate all GBA roms with opening to BatGBA. Click on a ROM to load it directly into the emulator.
---
11. mGBA
mGBA is what other Game Boy advance emulators aim to be. It has the widest compatibility for major game titles such as Pokemon series, The Legend of Zelda series, Mario Kart series and Final Fantasy, amongst several others.  Copy your own ROM and get started playing on the emulator without waiting for anything. 
Amongst the most notable feature is the Solar Sensor that works just like the real Game Paks(Cartridges). You will require an external physical sensor or an solar sensor emulator to make it work.
There is an option to make GIF of  GBA game from the emulator itself. Frames limit can be set to limit computer's processor and RAM usage, apart from battery backup for laptops.
---
12. NeonDS
The last in the never ending list GBA emulators is NeonDS. It is a classic emulator with several technical features for the experience gamers to play around with.
They graphics settings for rendering the display has the option between Nvidia and ATI. It will help for those with a dedicated graphics processing unit.
This Game Boy Advance emulator for PC is more relevant for the gamers who enjoy the technical aspect of ROMS more than the game itself.
13. SkyEmu
SkyEmu is a new low-level GameBoy, GameBoy Color, and Game Boy Advance emulator.
This GBA emulator has cross-platform support for Windows, MacOS, Linux, Web App (touchscreen support for iOS and Android phones.)
It provides good quality GBA emulation and provides options to use Game Controller and Rumble Support with configurable keybinds.
---
Over to You
These were some of the best GBA emulators for Windows PC. If you have any query or doubt, let us know via the comment section.