Millennials have absolutely adored the PlayStation Portable(PSP). Pitted directly against the industry leader Nintendo DS, it managed to make a formidable dent in the market.
With its sheer raw processing power advantage, the PSP catered to over 800 videogame titles. The graphics, game mechanism, and vibrant display made the gamers swoon over it.
Just like other good devices, Sony handheld console was discontinued to make way for its successor.
However, that does not deter the passionate fans who are looking to play PSP games on PC.
Take advantage of the best PSP emulator for PC to play PlayStation Portable games on your Windows computer. And contrary to popular belief, these emulators do not require a gaming PC.
Press the Pause Button, What about the ROMS?
PSP ROMS dump from your original games can be used here, along with the BIOS. For creating a dump, you will need applications like Rawdump or Friidump.
The other way is to purchase them from the official website. Few offline libraries offer games discs(UMD) as well.
Best PSP Emulator for PC
PPSSPP
JPCSP
PCSP
OpenEmu
RetroArch
We begin with the most versatile PSP emulator for PC. Apart from that, it also runs on macOS, Android, iOS, Switch, Symbian, amongst several other devices. 
On the mobile version, you can buy the PPSSPP Gold version to support the developers. As a complimentary gift, you get a unique set of icons.
There are two versions available for PC, the traditional setup and the portable version, which comes in zip format.

What Matters:
Exclusive homebrew store for downloading demo versions of several videogame titles.

Choose between different GPU units when you have a graphics card installed. 

Import PSP's save games to the emulator, and don't miss out on your progress. 

Play multiplayer through WLAN in the local and custom Ad Hoc servers. 

Change the background of PPSSPP's general user interface. 
Written in Java programming language, Jpcsp is amongst the best PSP emulator for PCs. You will need to run a batch file to start the emulator and a command line in the background.
Considered the most robust PSP emulator, it takes advantage of the dual-core processors to their full potential. 
What Matters:
Atrac3+ sound is supported through indirect channels. You can make it work by installing SonicStage on Windows. 

There are several ways for multiplayer in the latest version. Built-in 

ProLine

 server for playing multiplayer locally. 

Lan Multiplayer

 for connection to LAN. And lastly, in the experiment phase, the 

xlink Kai

 for online multiplayer gaming. 

UMD Browser for loading PSP ROMs on the go. 

Presets of popular gaming keyboards and mice, according to different regions. 

Command-line option available for both Linux and Windows users. 
Now we have a PSP emulator that has been dormant for a while. Its development has been discontinued, but the forums chatter got us curious for all the right reasons. 
Being a portable app, you will not need to go through the painstaking process of installation. Unzip the folder and launch the emulator right away. 
What Matters:
OpenGL shaders can be enabled for use on the emulator. By default, the generic shaders are used on the emulator.

Standard keyboard keys are assigned, which cannot be changed. External controllers are not allowed either.

Talking about file support, you can load UMD images, independent files, and 

memorycard.

Cheat and hack settings include decryptor and game freezer.

VSYNC is turned on by default, which can be limited by pressing F4 on the keyboard.
OpenEmu is a PSP emulator for macOS, designed explicitly for the ecosystem. Import a ROM, and while your game loads, plug in the controller. 
The standard version does not support PSP. That will not deter us since the experimental pack supports PlayStation devices.
What Matters:
Sleek user interface in line with the rest of the operating system.

Supports all popular gamepads along with the ones offered along with the home videogame consoles.

Drag and drop your game ROM backup into the emulator for starting the videogame.

Auto-scan the storage for finding compatible PSP game backups.

Save States are stored in a graphical user-interface based section.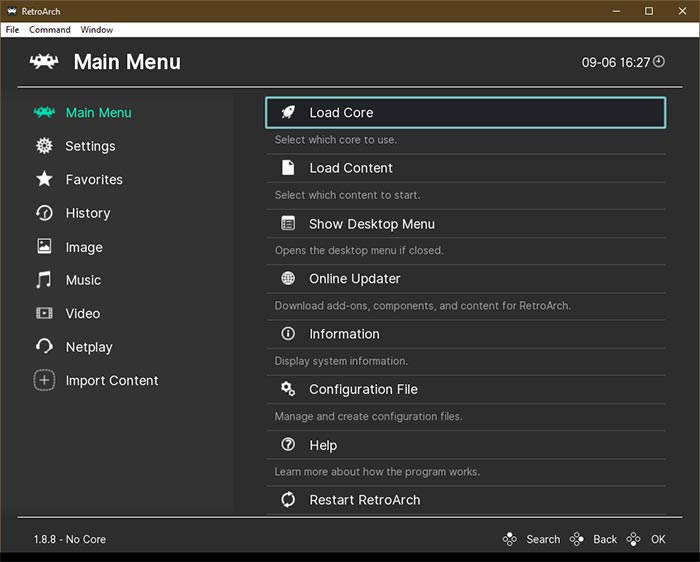 When someone says console emulator, RetroArch is our reply. Through its cores, which are modular programs like plugins, enable emulation of different videogame consoles.
For emulating PSP, RetoArch uses the PPSSPP core, which can be installed from inside the program.
What Matters:
Works on several dozens of platforms and devices, apart from an average PC. 

Netplay support for playing multiplayer online and LAN. Create or join lobbies created locally and on the Internet.

Rewind the game in real-time with a press of a button on the keyboard. 

Stream your game directly to YouTube and Twitch using the in-built support feature.

When you don't feel like setting up RetroArch, use the online version – 

RetroArch Web

. Upload your ROM and start playing PSP games.

---
Over to You
PPSSPP is your go-to PSP emulator for PCs, both Windows and macOS. When you want something with a better looking UI on mac, you can install OpenEmu.
On the other hand, using RetroArch is fundamentally running PPSSPP with extra features. Decide for yourself which one suits your gaming needs.