Ash Ketchum and his journey have continued to inspire millions of people across the world. Pokémon has defined a generation of children with its strong characters, mesmerizing story, and progressive plot.
Just like the anime series, the games based on it had a record-shattering success. Each installment, spinoffs, and the sequel were met with a flabbergasting reception.
With the advent of emulation, you can play these Pokemon games using the Pokemon emulator for PC.
Install them, load the original ROM and BIOS dump of the Pokemon game of your choice, and you are ready to catch some Pokemon and have their battles.
Best Pokémon Emulators for PC
Here are the best Pokemon Emulators to play pokemon games on PC.
Dolphin
RetroArch
Mesen
Project64
Cemu
Citra3DS
Yuzu
NO$GBA
1. Pokemon Emulator for GameBoy Advance – RetroArch
Starting off with RetroArch, the most popular kid on the block. Making all the right noises, it supports an extensive list of over 80 emulators through cores. You will get the list of cores and the option to download them individually.
It is the best choice of emulator to play Pokémon games on PC, Android, iOS, and other platforms. RetroArch is versatile when it comes to supporting a wide range of platforms.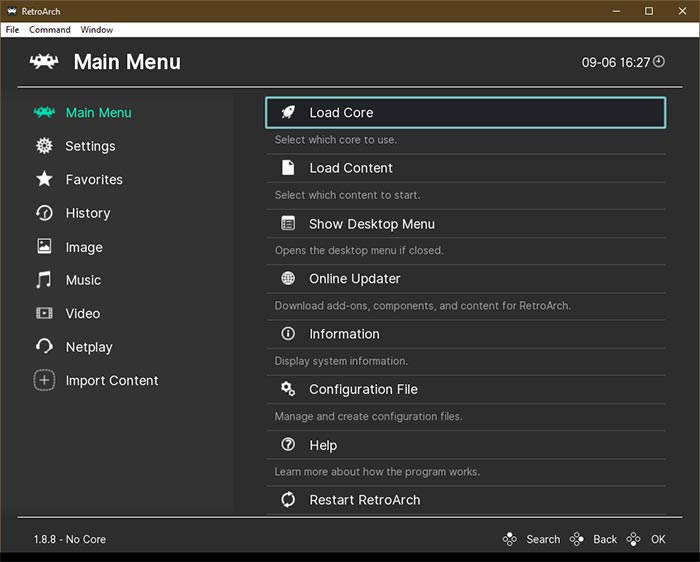 On paper, it has an ordinary cross-platform support. But that doesn't tell the whole story, as it supports over 32 different platforms, including gaming consoles, smartphones, browsers, and more.
Take advantage of the Netplay for online multiplayer gaming. Join or create lobbies to play with others players. While we are talking about going online, streamers have their bases covered with Twitch and YouTube direct stream support.
2. Pokemon Emulator for NES – Mesen
A highly accurate NES emulator for PC that is developed keeping in mind the beginners. The tutorial wizard takes you through the basics to get you acquainted with the general working of things.
Like most emulators out there, cheats have been handed proper accommodation on Mesen. Coupled with a cheat finder, it does the heavy lifting for you in finding the cheats.
The auto-saving feature keeps your progress intact so you can catch all the Pokémons you need. Swerving into the technical department, there are multiple audio filters on top of an audio equalizer dashboard.
A notable feature that is rare on console emulators is overlocking. Reduce the slowdown in games by overlocking. It does that by increasing the scanline before NMI by a few hundred lines.
Before we forget, just like RetroArch, Mesen does have the Netplay for multiplayer online gaming.
3. Pokemon Emulator for Nintendo 64- Project64
Project64 is a versatile Pokemon Emulator for PCs to run games of Nintendo 64, a fifth-generation home console. There is a portable version that doesn't seem to work as the program gets installed either way.
The user interface keeps it on the simpler side. Consisting of the following information – game title, status(running, closed, or paused), core, and plugin rows.
Options for audio, video have pretty standard settings with less of a wiggle room. In the controller department, we can plug in up to 4 at a time.
When you are well versed with the emulator, take advantage of the 50 keyboard shorts. They cover virtually every function on Project64.
When you need a reliable Wii and GameCube Emulator, Dolphin aces in its domain. It is cross-platform so that you can enjoy it on Windows, macOS, and Linux distros. And in recent times, it has started working on Android phones as well. 
Graphics departments hit it out of the park with 4k and 5K resolutions. The enhancements tab of settings does the wonders in that area.
Wii controller works phenomenally well close to an actual console. Other controllers such as PlayStation, Steam controller, or Nintendo switch can make it work through the alternative input store(DSU).
You can check the compatibility of your favorite Pokémon games on the emulator. First-time installation and playing is a hectic task on this one. Consequently, we wrote a guide on ways to use the Dolphin emulator.
5. Pokemon Emulator for Wii U – Cemu
Cemu is the lone Pokemon emulator that works on Wii U titles. Runs exclusively on x64 systems because of its high RAM usage, which exceeds 4 GB in all scenarios. Check whether your PC is x32 or x64 with the help of this guide by Microsoft.
On the first launch, you are greeted by an enthusiastic tutorial that helps you understand the basics. You get to set the mlc, game paths, along with the option to download the community graphics pack. 
The flag of graphics is held high by OpenGL and Vulkan. They can be toggled according to your requirements. 
Here playing online is different from what we talked about earlier in the post. You will need the original ROM dump to connect with the Wii servers.
6. Pokemon Emulator for 3DS – Citra 3DS
Since the last time we talked about Citra 3DS, it has made great leaps forward. They pushed out an Android version a while ago.
Starting with the exterior, we get the two options in themes – dark and light, with an added option of colorful flair. The Pokemon emulator for PC has a standard UI, similar to what you find on other emulators.
Citra Web Service sweetened the pot with its seamline online gameplay experience. You have the option of accessing public rooms by other players, which can be joined through permission. Alternatively, rooms can be joined using IPs, ports, and nicknames, along with room passwords.
They have two installers, the first one being online-based, while the second one is a manual offline installer. Check the compatibility for your favorite Pokémon game.
7. Pokemon Emulator for DS – NO$GBA
NO$GBA is lightweight. If you are looking to play Pokemon DS games then this easy-to-use Pokemon emulator for computer PCs is the right choice for you.
It runs without a fault on low-end computers, putting a minimal load on the available resources.
All the back-end stuff is generic with minimal scope for changes. The quick-save feature works on few versions of this emulator, which is not the confident statement made by the developer.
What it lacks in a flash makes up in performance. Load your ROM along with BIOS, and take it for a spin. There have been hints on WIFI multiplayer support in the future, but we are not getting our hopes up.
8. Pokemon Emulator for Switch – Yuzu
Last on the list is Yuzu, a versatile Pokémon emulator that emulators Nintendo Switch games. The application is available for Windows, Linux, and more recently for Android. We dived into it while discussing the best Nintendo Switch emulators for PC.
Yuzu has impressed in a short span of time. Swerving into the features, we have multiple user profiles. Create your own individual profile and maintain game progress, save states without worry about others touching your computer.
Playing against your friends in local multiplayer was possible until they removed it, owing to Nintendo's objection. On the other hand, Ryujix, another Nintendo Switch emulator, provides the local wireless multiplayer option. A great alternative to Yuzu, take it for a test drive and decide if multiplayer is important to you.
When you don't want to leave Yuzu, use Parsec, an online service, which can be used for playing with your friends over the Internet.
---
List of Pokemon Emulators for PC With The Pokémon Games You Can Play
Emulator
Games Available
Dolphin Emulator – (Wii)

Pokémon Battle Revolution
Pokémon Box: Ruby & Sapphire
Pokémon Channel
Pokémon Colosseum
Pokémon Fushigi no Dungeon: Ikuzo! Arashi no Bōkendan
Pokémon Puzzle League
Pokémon Rumble
Pokémon XD: Gale of Darkness
PokéPark 2: Wonders Beyond
PokéPark Wii: Pikachu's Adventure

RetroArch – (GameBoy Advance)

Pokémon FireRed and LeafGreen
Pokémon Red and Blue
Pokémon Emerald
Pokémon Ruby and Sapphire
Pokémon Mystery Dungeon: Blue Rescue Team and Red Rescue Team

Mesen – (NES)

Pokémon Sun and Moon
Pokémon: Let's Go, Pikachu! and Let's Go Eevee!

Project64 – (Nintendo 64)

Pokémon Stadium
Pokémon Stadium 2
Pokémon Puzzle League
Pokémon Snap
Hey You, Pikachu!

Cemu – (Wii U)

Pokémon Mystery Dungeon Blue Rescue Team
Pokkén Tournament
Pokémon Rumble U
Pokémon Snap
Pokkén Tournament

Citra 3DS Emulator – (Nintendo 3DS)

Pokémon Ranger
Pokémon Ranger: Shadows of Almia
Pokémon Ranger: Guardian Signs

NO$GBA -(Nintendo DS)

Pokémon Conquest
Pokémon Conquest : Shadows of Almia
Pokémon Ranger
Pokémon Conquest HearGold, and Soulsilver
Pokémon Dash
Pokémon Trozei
Pokémon Pearl, and Diamond Version

Yuzu – (Nintendo Switch)

Pokémon Legends: Arceus
Pokémon Mystery Dungeon: Rescue Team DX
Pokémon Sword
Pokémon Shield
Pokémon Tournament DX
Also Read: Best Pokemon emulator for iPhone
Over to You
We have covered the best Pokemon emulators for PC that work on Windows, Linux, and macOS. Different installments of Pokémon were sometimes released for multiple consoles at once.
The ball is in your court. Decide what game you want to play, and install a specific Pokémon emulator for your computer.