Commodore Amiga was series of personal computers, which were amongst the first multimedia based systems based on 16-32 bit processors.
The Amiga series gained traction with Atari ST taking inspiration and technology transfer from the former's team.
Focused on gaming through Amiga software, it was launched half a decade prior to PlayStation and Sega Saturn. The two stalwarts which later went on to change the market dynamics.
Best Commodore Amiga Emulator
WinUAE
FAS-UAE Amiga Emulator
WinFellow
Script AMIGA Emulator
Fellow
RetroArch
Uae4arm
UAE4droid
This is the best Commodore Amiga emulator available right now. It is being updated constantly with new features and available for Windows OS.
Load up the startup ROM and WorkBench work functioning with its full potential. You get a plethora of configurations and customizations to go with the games.
Beginners may find it difficult to configure, but experienced users would appreciate the spectrum of customization and features.
It is inspired by the WinUAE emulator, offering pretty much the same functionalities.
Two stark differences stand between the two emulators. The first one is the ease of use with which anyone can use this Commodore Amiga Emulator. Second is the availability, as it is available for Windows, macOS, Linux, MS-DOS, and OpenBSD others.
Backed by solid joystick and gamepad support, you can use Amiga Joystick and mouse with ease. Furthermore, you can extend the controller's support through the FS-UAE launcher.
FA-UAE integrates all the Amiga emulation codes feasible and supports A500, A500+, A600, A1200, A1000, A3000, and A4000 models. But, that's not all; users can tweak hardware configuration to create custom Amigas.
Similar to RetroArch, we get Netplay on this application as well. So go online and play games in multiplayer.
The third Commodore Amiga emulator is WinFellow. A high-performance emulator for the retro computer, powered by C++.
Now we talk about the display. Again, it is in line with modern needs as users can go all the way up to 1920 by 1080 pixels of resolution.
In order to improve the front-end, Workbench support is available. As a result, it has witnessed improvement with each update.
The sound is rather modest with the stereo and mono options. Consequently, the Sample rate can be calibrated for further enhancement of audio.
Also Read – Windows Emulator for macOS Computers
No list of emulators of complete without RetroArch. It acts an emulator front-end which requires a core to run different games.
A core constitutes a program, plugin which act as emulators and lets users run games of different consoles.
Available across 25 different platforms, you can play Commodore Amiga games by loading the WinFellow or FSUAE core.
Play games like Stunt Car Racer in multiplayer mode, thanks to the Netplay support. Join or create game lobbies to play online.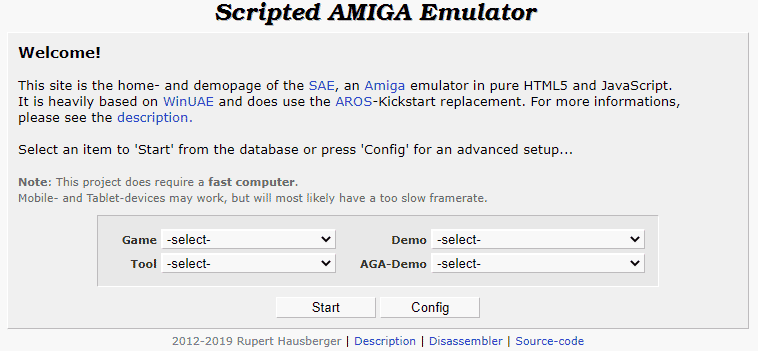 We go online looking for a working Commodore AMIGA emulator. SAE is heavily based on WinUAE and AROS kickstart replacement.
This online emulator has a set of 9 games in its full version, which includes famous games such as Deluxe Galaga 2.2, NorseGods, etc.
There are no downloads or installations of any kind. Everything is browser-based, relying on the capabilities  JavaScript and HTML5.
Best Commodore Amiga Emulator for Android
Android has few good options in Commodore emulation, but Uae4all shows promise. There are no complex configurations that need to be done.
Users can emulate Amiga 500, 500+, 600, 1200, 1400, and CD32. Games of all these models have 4 save states slots for saving the game progress.
Several hard drives are supported in the storage. In addition, Zorro3 fastmem support has recently been added. Overall, the user interface and general usage feel similar to WinUAE.
Based on UAE4All, you will find commendable levels of stability on most Android devices.
As with every freeware, the support is shaky for HD files(.hdf) and dirs support. So there is a long road ahead, but it has been better than other Commodore Amiga emulators for Android.
Save states of previous versions of the emulator are not supported on newer ones. The change has been due to the addition of newer cores, AMIGA 1200 and AGA.
Over to You
Time to play Commodore Amiga games and relish those old memories. First timers would find the retro aspect of it amusing.
These were some of the best Commodore Amiga emulators that work. If any new promising emulators sprout up, do let us know.
Or, will we will be the first to post about it? Watch out this space to find out.