The reigning leader of the 16-bit era, Super Nintendo Emulators(also known as SNES), practically ruled the 90s with its unparalleled 16-bit games and the subsequently released console.
After the tremendous success of NES, Nintendo looked to emulate similar success with its SNES Console. While the early 32-bit consoles were seen as the future in the later part of the decade, one game revived SNES for good. 
The release of Donkey Kong Country by Nintendo for SNES  sent a message to all newer generation consoles that they are not leaving just yet.
Although SNES was discontinued in the early 2000s, the SNES games can be played by using a SNES emulator for Windows PC and other operating systems. 
Best SNES Emulator for Windows PC
1. higan
We start with the best SNES emulator that is available for Windows 11, windows 10, and earlier versions of the OS. The BSNES inspired higan can run almost every SNES game on it, provided there is ample amount of computer power at its disposal.
This emulator is meant for computers with relatively high-powered CPUs, which is a cost you pay for running all the games on it. 
The versatile Nintendo emulator is available in a portable form. It can be launched soon after downloading and extracting the zipped file. 
As higan supports multiple Nintendo and other consoles, users will need to "create a system", as in a profile for emulating SNES. The process takes 10 seconds at most. The settings for the emulator are visible after you launch the system. It has options for mapping keys, audio, and graphics drivers.
Talking about the display, the emulator supports upto 1280×960 in scaling, with room for aspect ratio correction. 
Download higan
---
2. Snex9x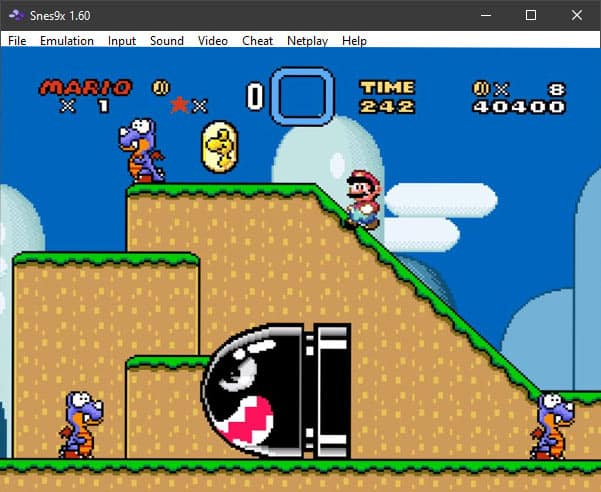 For those of you who cannot run higan in its glory, there is another super nes emulator available. Snex9x can be the ideal choice for you if higan is not able to run properly on your computer.
Emulator nowadays have cheats, frequently with third-party support such as GameShark. Meanwhile, Snex9x offers its in-built hack panel for speedrunners, apart from the standard cheat dashboard.

The games can be played online in multiplayer with the help of Netplay that is available for hosting, joining servers.

Talking about the display department, there are over 2 dozen image output processing options for enhanced graphics.
Download Snex9x
---
This SNES emulator ceased it being renamed higan with a different development schedule, which was based on the original Bsnes.It can run some of the best SNES games available for the veteran console
Later in 2018, the developer of bsnes(and higan) decided to revive it again for PCs which cannot run higan, and therefore reach a wider audience. It is now a community project.
Being a flagbearer of versatility, it supports 2 controllers, bundled with Satellaview for loading, downloading games similar to what hakchi2 ce does on the console.
Moreover, you can reduces the slowdown  performance of the emulated games with CPU, SF-1 overclock. It does the deed by inserting more scan lines in CPU thread.
Other distinguishable features include multi-controller/keyword key mapping and supports upto 720p of resolution(with stretching for most games).
Download Bsnes
---
4. BizHawk
Bizhawk is a multi-platform emulator for SNES console that can emulate several consoles. We mentioned it in our article where discussed some of the best N64 emulator for PC.
The emulator is the holy grail for speedrunners. It has a tool-assisted speedrun software that allows gamers to finish the game swiftly. 
Talking about features, you will get a macro script that can automate specific tasks in an event, slow motion for making cinematic gameplay videos or to ordinarily finish a complex level.
Apart from that, you get a standard key-mapping option to assign different keys. 
Download BizHawk
---
5. RetroArch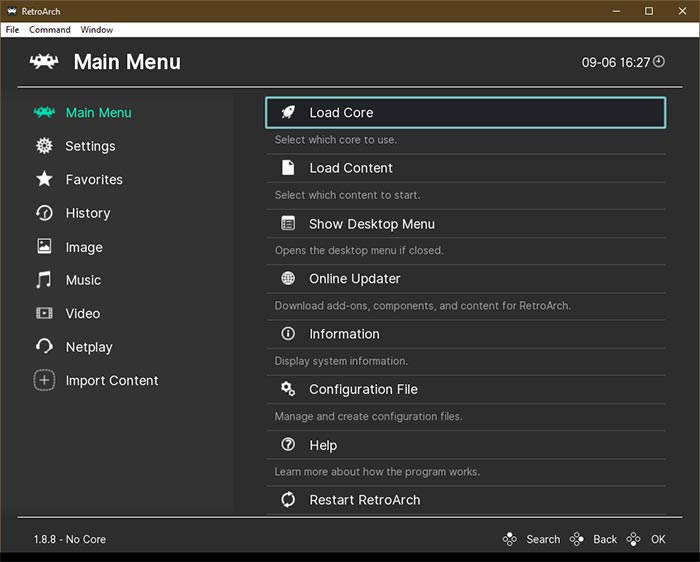 The all-rounder of emulators has been on the list of virtually all console emulators that are available for Windows 11,10 and Mac PCs and laptops. It has extensive support for several consoles.
Had there not have been a higan or bsnes, RetroArch would probably be the best SNES emulator for Windows 10. There is Netplay for multiplayer and hosting servers.
Multiplayer game enthusiasts can take advantage of Netplay to play games online by joining servers or creating one of their own. For the game streamers, there is a streaming option, therefore eliminating the need for third-party streaming software. 
Furthermore, you can use their online SNES emulator for playing games.
Download RetroArch
---
6. Mednaffe
The multi-console supporting Mednaffe is a front-end version of the classic command lined based Medafen.

You can search for the loaded SNES games from the search bar given on the home-window.

Apart from the standard features of a SNES emulator, it features cheats like GameShark, CodeBreaker and ActionReplay, which can be accessed via a hotkey.
Secondly, there is Netplay for online play and to share file/media with other players.
Download Mednaffe
---
7. Nestopia
Next on the list is a SNES emulator for Windows 10 PCs and Linux computers that support a couple of Nintendo consoles.
The cheat dashboard is systematic and displays the available cheats in an orderly manner. Also, you can use the Auto Save feature to save your game progress automatically.
Over 4 gamepads can be connected simultaneously with the 4 ports options available. There is Netplay as well for online multiplayer.
In the media department, there is a sound recorder which you can use to record music, theme song of the games. Additionally, a movie player also comes with the emulator, with the option to export the videos in AVI format.
Download Nestopia
---
8. No$sns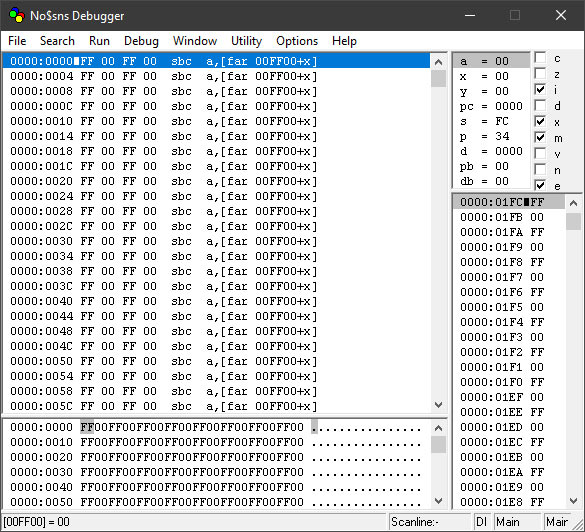 The last SNES emulator for Windows is a debugger as well. No$Sns is a pretty straightforward emulator for Super NES with a 10 slot ROM space.
Additionally, there are add ons, such as Satellaview, Turbofile(TFII and STFF), Super Disc and CD ROM which allows quick loading and downloading of games/ROMS. 
Secondly, you can install 2 joypads, barcode battler, Pachinko Dial, Multitap, Lightguns and Extentainment bike, amongst other external input devices. 
Download No$sns
---
Are SNES Emulators legal?
The SNES emulator alone is legal as it emulates a game. However, the SNES game needs to be original and owned by you. The ROMs downloaded from the Internet for free do not fall in the purview of legality.
Over to You
While we mentioned some of the best SNES emulators for Windows 10, 11, and others, there is a growing for use SNES emulator online.
Not everyone is ready to play around with the settings, configurations to play their favourite SNES game. They can use the SNES Party to play SNES games online. It is powered by Kosmi, and the emulator is free to use. All you need a legal copy of your ROM to load and start playing.