The era of 16-bit waking up to new players when Nintendo's NES was ageing, SEGA released their Mega drive. It was called Sega Genesis in North America owing to pending trademark issues.
As the console war was heating up, Sega decided to take on their competitor Nintendo with brilliant and creative ad headlines. One such which stood the test of time has been the "Genesis does what nintendon't. The creative title is considered amongst the best advertorial headlines taking a shot at a competitor.
The craze for Genesis never ceased. It only grew with time as the retro console enthusiasts like to revisit the era of 16-bit games that defined a breed of gamers in the 90s.
We did a piece on Sega Genesis Emulators for Android too if you want to play Sega Genesis games on Android phone.
If you are looking to play sega genesis games on your Windows or MAC PC. We have tested and listed the best working Sega Genesis emulator for PC that you can try.
Best Sega Genesis emulator for PC 
Fusion
Gens
Gens Plus!
RetroArch
higan
BizHawk
DGen
Formerly known as the Kega II and Kega Fusion, this emulator is arguably the best emulator on PC out there for Sega Genesis. The popular Genesis emulator works on Mac, Windows, and Linux.
Unlike other emulators, Fusion runs mostly all games on 60 FPS with the Mega Drive ROMs. In controls, you can use the keyboard, or use the gamepads, including the original Sega Menacer.
Talking about the graphics, gamers will enjoy the smooth filtering through the 2xSal graphics plugin.
Screenshots can be saved in TGA and BMP format. There is no option for video recording as of now. Sound can be recorded in the form of WAV files.
For multiplayer, there is Netplay which can be used to create or join a game room. If you want to ease up the difficulty, there is always the Game Genie ROM support as cheats.
Lastly, there is support for MasterSystem, GameGear, Genesis /x32, and SEGA CD in the form of ROMS.
---
Gens is a Sega Mega Drive emulator that had the most prolonged period of development while it was being maintained actively.
Backed by 68000 and Z80 CPU emulation compatibility, both can be hard reset when the configuration goes haywire. Additionally, there is the renowned Yamaha 2162 synthesizer for sound emulation as well.
There are 9 save states available for the gamers to save different states of the games. The cheats can be accessed via the Game Genie interface that comes pre-loaded, without the Genesis cheat ROMS.
Being on the relatively simpler side of things, it lacks online multiplayer support. There is, however, an option to connect a controller for multiplayer playing locally.
Moreover, there is a shortcut key for capturing screenshots but no option to record videos.
---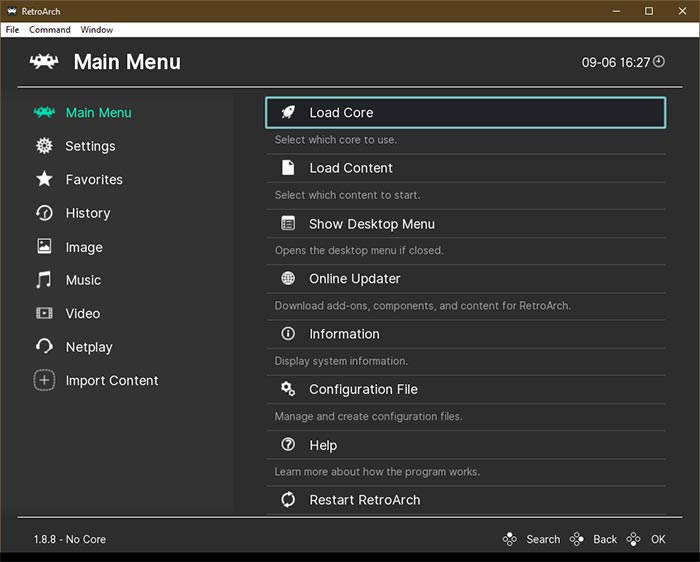 There has been said enough about this versatile piece of art in the emulators' world. RetroArch never fails to amaze when it comes to emulation. It emulates over 80 different consoles, including Sega Genesis supporting both Mac and Windows.
Netplay is there to host players while you can also join gamers in their lobbies online to play together as multiplayer.
RetroArch has the retro vibes exuding CRT monitor mode, which emulates a CRT monitor display with the border around the display.
Talking about customization, there are many settings to configure, which will customize your experience of console emulation.
As for the game streaming, RetroArch provides the option to stream directly to YouTube and Twitch without requiring a third-party app.
---
Bizhawk is another emulator that has found mention in an earlier post, such as Best SNES emulator for Windows PC, amongst others.
The emulator is perfect for speedrunners of Genesis games. It has a Tool-Assisted-Speedruns(TAS) that helps speedrunners to complete the game in a limited amount of time. For complementing speedrunning,
Bizhawk offers slow-motion, auto-save state, and dynamic key-mapping along with macro-scripts to enhance your Mega Drive gaming experience.
---
Based on Gen's build, it is a Genesis emulator with added features that the original Gen emulator lacked.
As Gen Plus! is about all the "extra features," we will talk about the features that have been added. First of all, you can change the user-interface of the emulator, playing around with different color schemes and fonts.
Secondly, there is a thumbnail preview to save states of different games. You would not need to open them to recall the progress you achieved in a saved state. 
Additionally, there are a variety of intro effects for the intro screen, apart from the TV screen. 
Lastly, it has the low-pass filter for a clearer sound that is uncommon for ROMs made from your old cartridges. The feature is unique and would make it amongst the best Sega Genesis emulator for Windows PCs.
---
higan has been the perfect emulator for Nintendo consoles, as we have talked about it in our best NES emulators for PC post. 
The portable Mega drive emulator has console profiles as it supports a wide variety of Nintendo and some of the Sega consoles. 
Setup should take about 10-seconds for an average computer user. It has all the generic video and audio settings, apart from the auto aspect-ratio correction. 
Talking about emulation, higan stores a copy of your ROM in their emulation folder, which they like to call "Game Parks."
---
We are in an era where simple emulation of a console doesn't cut it anymore. DGen is command-line here to fulfill your needs in that department.
The feature-rich Sega Genesis emulator is may not be suitable for an average computer user. Try other emulators if you are looking for the one with a user-interface.
Talking about the features, there is the OpenGL texture video output support. Z80 debugger is also shipped with the emulator.
Demos and screenshots can be captured, along with the option to play them on the emulator.
No console emulator is complete without cheat supports. There is Game Genie, and Hex codes support provided on DGen.
---
Over to You
These were some of the best Sega Genesis emulators for PC that you should give a try. With any of the mentioned emulators, you can play Sega Genesis games on a computer without difficulty.