Released in the year 2000, PlayStation 2 is one of the greatest gaming consoles of all time, and during its lifespan of 13 years, sony managed to ship around 155.0 million units of the PS2. Sadly, the console is no longer supported and manufactured.
However, there are thousands of PS2 games that were exclusively available to the PS2 platform and gamers still love playing them.
What if you want to play PS2 games on your iPhone or iPad?
Luckily using PS2 Emulators For iOS you can still play your favorite PS2 titles on iPhones.
As the title suggests, in this article we have shared some of the best PS2 emulators for iPhones that are worth checking out.
Furthermore, you can also find some popular PS2 games that are natively available for iOS in this post.
RELATED: Best PS2 Emulator for Mac
---
Best PS2 Emulators for iOS ( iPhone and iPad)
1. PPSSPP (Sony PSP)
First, on the list, we have the tried and trusted PPSSPP emulator for iOS. This emulator has been in existence for almost a decade now.
Using PPSSPP you can play almost every PSP game out there. Furthermore, hundreds of PS2 games that were ported to PSP can also be played using PPSSPP.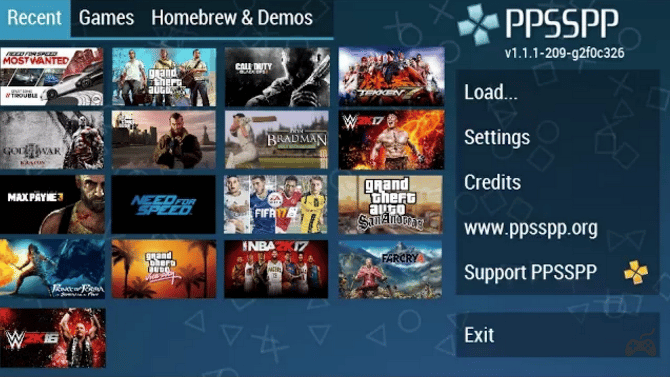 PPSSPP offers a virtual controller overlay that can be used via the touch screen of your iPhone or iPad.
To use PPSSPP there's no need to jailbreak your iPhone. You can support the developers by purchasing the gold version of PPSSPP.
---
2. PS2Smart
PS2Smart is a PlayStation 2 emulator application for smartphones running the iOS operating system.
With PS2Smart you don't have to worry about the PS2 BIOS file as it's already built-in inside the app.
Once again jailbreak is not required to use this app for iOS devices.
PS2Smart also allows users to download PS2 ROMs.
Some popular games that run flawlessly on PS2Smart are Silent Hill 2, God of War 1 & 2, Final Fantasy XII, Devil May Cry 3, Kingdom Hearts, Okami, Ratchet & Clank, and Dragon Quest VIII: Journey of the Cursed King.
---
3. RetroArch 
RetroArch is one of the best emulators for iOS that can help you play PS2 games on iPads or iPhones.
Additionally, you can emulate many other consoles like PS3, PSP, PS Vita, Wii, Wii U, and many more.
Some noteworthy features of RetroArch are easy-to-navigate & polished UI, cross-platform support, highly configurable, and shaders support to improve the rendering of old games.
RetroArch uses the same gamepad for all the different consoles it can emulate. As a result, you get accustomed to the layout of the controls no matter what game you're playing.
---
4. NewGamepad emulator for iOS
Next on the list, we have the NewGamepad emulator for ios that can be installed on iOS devices running iOS 12 and iOS 13 without jailbreaking them.
The emulator is designed keeping classic games in mind and it can run both PS1 and PS2 titles.
The NewGamepad emulator for iOS doesn't consume many system resources for its proper functioning.
Consequently, you can install it even on older iPhones. The emulator supports save points helping you get back into the game where you left off.
---
5. Happy chick emulator for iPhone
Last on the list of iPhone PS2 Emulators we have the Happy chick emulator for iPhone.
You will be surprised to know that Happy Chick supports more than 18 consoles, including PlayStation 2, PSP, Nintendo, and many more.
Using Happy chick you can play demanding PS2 games like GTA, Call Of Duty, and God Of War.
Lastly, there is no need to jailbreak your iPhone for installing the happy chick emulator.
---
Best PS2 Games For iPhone And iPad
In this section, we have shared some of the best PS2 games natively available for iPhone and iPad.
You can effortlessly download these games from the App store and play them on your iOS device.
Grand Theft Auto: San Andreas
Grand Theft Auto: Vice City
Grand Theft Auto III
Grand Theft Auto: Liberty City Stories
Max Payne
Bully: Anniversary Edition
Dragon Quest VIII
We will continue to update this list as more and more PS2 games become natively available for iOS.
Consequently, if you're interested in playing old console games on your smartphone you can bookmark this webpage and visit it on a regular basis.
---
PS2 Emulator For iPhone FAQs
Can I play PlayStation 2 games on my iPhone?
Yes, you can play PlayStation 2 games on your iPhone. The two best ways to do that are by either using a PS2 emulator or downloading some of the PS2 games that are natively available on iOS from the App Store.
Can I run a PS2 emulator on my phone?
Yes, you can run a PS2 emulator on your iOS and Android phones. Once the emulator is installed on your device transfer the PS2 game ROMs to your internal storage and boot them using the emulator.
Can iPad run PS2 emulator?
Yes, most modern iOS devices including the A series chip iPads and M1 iPads can easily run PS2 emulators. Using iOS PS2 emulators you can play PlayStation 2 games on your iPad.
---
Also Read: Best Pokemon emulator for iPhone & iPad
CONCLUSION
So these were some of the Best PS2 Emulators For iPhones and iPads that are worth checking out.
If you have any recommendations for iOS PS2 Emulators then feel free to let us know on our socials.