Windows 11 sports an improved UI with a lot of tweaks under the hood. But the first thought that comes into your mind after you install Windows 11 is the number of apps available for the operating system. Windows 11 has had a dedicated app store called Microsoft Store for years now. 
Earlier, the app library was very limited but the store now offers a lot of new apps which can make your life easier. Developers can now publish Win32 apps on the store which gives them the platform to reach a huge audience. You can even run Android apps on Windows 11 by using the Windows Subsystem for the Android platform.
But finding the best apps for Windows 11 system isn't a piece of cake. You have to visit the depths of the store to find something you need or have to try out multiple apps to pick the best app for Windows 11. 
To reduce your effort, we scoured the Microsoft store for the best free apps for Windows and even tried out paid ones to see if they stood up to their claims. So, you don't have to waste time searching for new apps on Microsoft Store or the web. Just explore our list of 15 unique apps for Windows 11 that includes apps from multiple categories (customization, utilities, social, and more). 
Best Apps For Windows 11
Here are the best Windows 11 apps that you should check out at least once!
Tired of using cleaner programs that are nothing but a popup bomb? Well, you are not alone. Even Microsoft realized the issue that users had to go through to clean up and maintain their Windows system. So, it created an official PC manager application that handles both cleanup and optimization tasks without any sweat.

The best part is that you don't need to install troublesome apps like CCleaner which just shives ads and popups in your face to upgrade to a pro version. All that for just some cleanup and updating software? No, thanks.
You can download the Microsoft PC Manager from its official website. The primary feature is to clean up memory and temp files but you can deep clean files as well. Apart from that, the app can identify large files present in the C drive and can even kill useless programs and disable startup apps.
The app also has a security component that allows you to use the Windows security app to monitor threats in real-time. In addition, there is also an option to block popups in Windows apps and enable browser protection as well. All of this without paying a dime is a lucrative affair and we urge you to try it once.
Noteworthy Features
Free and secure

Cleanup and security features

Negligible size 
Do you use a multi-monitor setup? Well if you do, you must try screen rotate by Adam Jędrzejewski. You may wonder why you need an app to rotate the screen on Windows 11. It is because Microsoft removed the shortcuts using which you could change the screen orientation.
Now, you need to dive deep into display settings in order to do that. So, install screen rotate and get rid of the hassle to open GPU settings or system settings just to rotate the screen. You can even set hotkeys in this app for ease of use. Just launch the screen rotate once and minimize it to the system tray.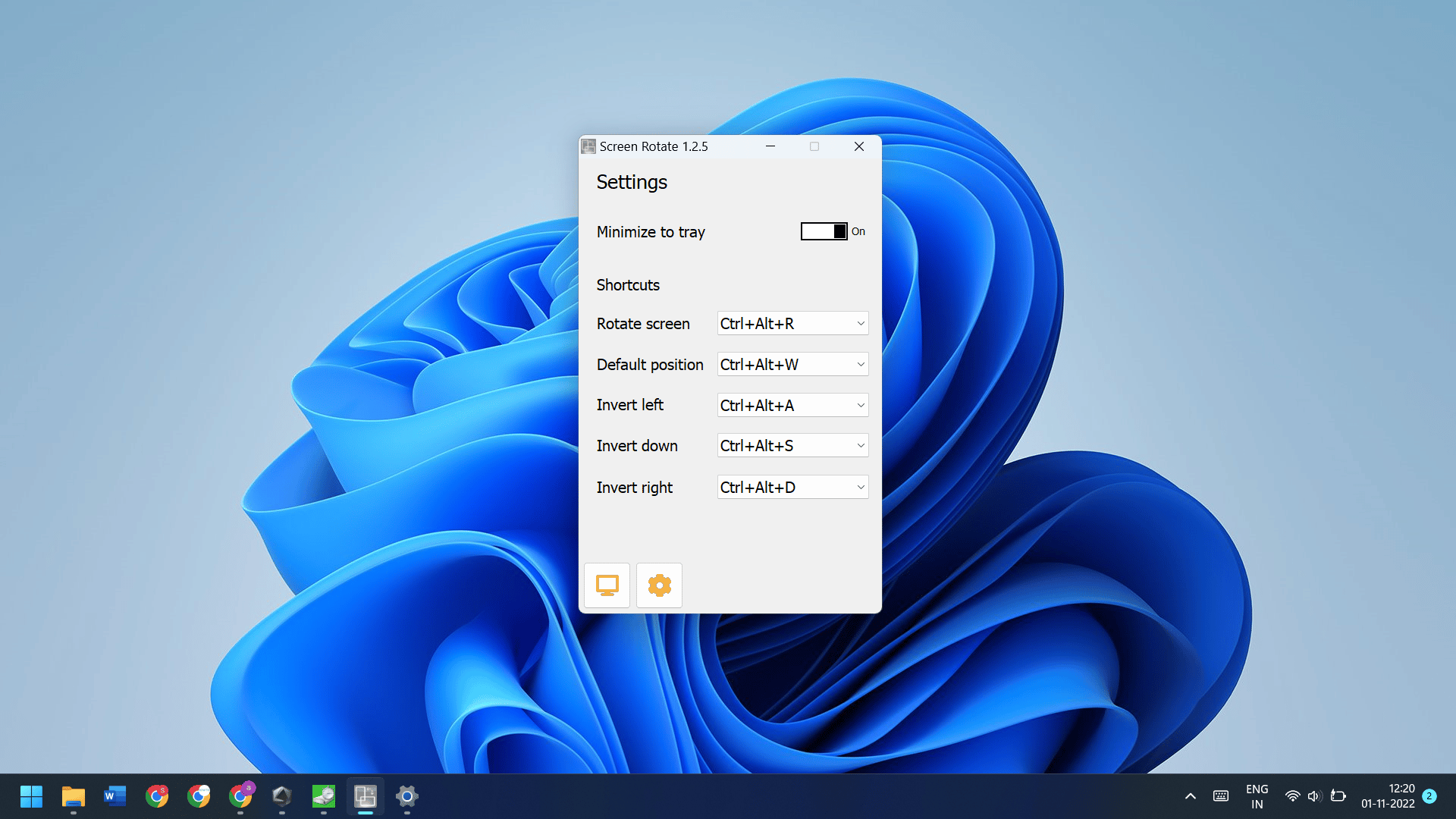 After that, you can either use the app interface or the hotkeys to rotate the screen. Do remember to use hotkeys that aren't already in use because it would cause a conflict. 
Noteworthy Features
Small and lightweight app

Minimizes to the system tray

Supports hotkeys 
Windows 11 doesn't offer an inbuilt equalizer which bugs many new users. An equalizer app lets you adjust the sound levels and even get a bit more output from your speakers. This is where an app like FxSound comes in handy to boost your volume levels and tune the audio frequencies.
Unlike older sound equalizer apps, FxSound has an impressive user interface that is easy to understand. The app offers multiple audio presets which come in handy for most users, who don't know how to adjust the best frequencies.
FxSound is free and offers downloadable bonus presets as well. Try it and boost the bass and audio output of the speakers on Windows 11.
Noteworthy Features
Clean GUI

Multiple useful presets

Additional presets available
A dark mode app on Windows 11. But why? We understand your confusion because Windows 11 and even 10, offer a dark mode feature in the system settings. It works fine for the most part but has a crucial setting missing. Unlike Android and iOS devices, where you can manually tweak when dark mode turns on or off.
Auto Dark Mode does exactly that and offers all the customization that you will need to use dark mode on Windows 11. You can set a time for activating the dark mode on your system. Most mortals prefer to activate dark mode when the sun sets to sunrise. Or, you can set custom hours as well.
Apart from the time settings, you can even pick which apps use dark mode. Unlike Windows settings where it is a one-shoe-fits-all kind of approach when it comes to dark mode, the Auto Dark Mode app lets you customize it to your heart's content. Moreover, the app won the Microsoft App Store awards and is absolutely free.
Noteworthy Features
Schedule dark mode on Windows 11

Choose which apps use dark mode

Switch to a dark theme and wallpaper
If you constantly struggle with audio issues on Windows 11, EarTrumpet can fix that. Microsoft's attempt to make a neatly tucked action center with all the controls didn't do any justice to the sound controls. You can hover and scroll the volume of the current audio device but it is just a global approach.
With EarTrumpet, you can customize the sound of each and every app. That level of granular control ensures that you don't accidentally burst your ears when a site plays an unskippable ad or a video conferencing session gets inaudible.
We also love the accessibility associated with this app. You don't need to dive deep into audio settings just to adjust the volume levels of different audio devices. Moreover, you can move apps between playback devices. All of this without paying a dime makes EarTrumpet a worthy addition to Windows 11 app library.
Noteworthy Features
Access multiple audio devices in one menu

Move apps between playback devices

Customize the sound of each app
Bored of static, bland, and repeated library of wallpapers? Then, check out Lively Wallpaper which is one of the best customization apps for Windows 11 and was the runner-up of the 2022 Microsoft Store App awards. Downloading the wallpaper of an iconic character from movies or shows is one alternative but live wallpapers are a different ballgame altogether.
Lively Wallpaper has come a long way since its first release and allows you to set live wallpapers from any video. You can even pick a website or a video from YouTube and make it your live wallpaper. This free live wallpaper app for Windows 11 is open-source and even supports setting GIFs as screen savers and wallpapers.
You can adjust the live wallpapers on different monitors and resolutions. Lively wallpaper paused the video playback when you do resource-intensive work such as gaming, browsing, or using productivity apps. It is still impossible to wrap our heads around the fact that all the features are accessible and not hidden behind the paywall of this amazing Windows 11 customization app.
Noteworthy Features
Free and open-source 

Set GIFs as screen savers

Set Web pages as wallpapers 

Pauses live wallpaper to save resources
LibreOffice is slightly unheard of, especially in the Windows community. A major reason for that is the excessive promotion of Microsoft Office and bundling of its trial version with recent copies of Windows OS. While we do agree that Microsoft Office isn't a bad app, it is indeed expensive and resource-hogging.
A better alternative to that is LibreOffice, an open-source attempt to offer free documentation products. LibreOffice is popular among Linux users but is slowly being loved by macOS and Windows users too. It is due to the fact that it doesn't promote excessive integration like Microsoft does with its products.
LibreOffice supports even files from an older version (something that MS Office warns you about). Moreover, it is light on system resources and has improved quite a lot in terms of feature set and user experience. If you are looking for a free Microsoft Office alternative, you can trust LibreOffice. Make sure that your peers use it too because sometimes Microsoft Office doesn't support files from LibreOffice.
Noteworthy Features
Free and open source

Less resource intensive

Supports files from older versions
F.lux is a little less-known app that can save your eyes from the glaring blue light. We have been using the app even when it wasn't available on Microsoft Store, back when Windows 7 was the talk of the town.
Now, F.lux is available on the official website as well as on the Microsoft Store. If you want to customize display brightness and color temperature, this free Microsoft Store app won't disappoint you at all.
After a quick download and installation, you can set the color temperature in Kelvin as per your wish. Set a slightly warmer tone because it is less jarring on the eyes. F.lux is an option for those users who don't like the dark mode on Windows 11 but want to save their eyes from the blue light. 
The app springs into action when you start your system, so you don't need to configure it every time. Moreover, there is an option to activate F.lux from sunset to sunrise if you prefer it that way. 
Noteworthy Features
Choose from warmer to bright white color

Runs on startup

Time Scheduling 
Microsoft changed the Start menu with Windows 11 and the desktop customization features as well. The internet is divided over the fact that the Start menu is worse than before or has indeed changed for the better. If you have any gripes with the new Start menu and want to go back to the old Start menu of Windows 10 or before, Start11 is a great app for you. 
The primary feature of Start11 is to revert to the old start menu look of Windows. If you loved the Windows 10 layout, you can use that layout or if you feel nostalgic, you can apply the Windows 7 Start menu layout as well. You cannot move the Taskbar on Windows 11 but with Start 11 app, it is possible to get back those super-useful controls back.
Start11 can also display the elaborate context menu option which appeared in the Windows 11 taskbar. However, this best customization app for Windows 11 is paid and there isn't any free trial available.
Noteworthy Features
Change Start Menu designs

Adjust appearance 

Get old context menus back
Microsoft PowerToys brings an assortment of useful tools which make your Windows 11 experience much better. This app is also available for Windows 10, so you can achieve the same level of customization in Microsoft's older operating system too.
If you are curious about the features that PowerToys offers, they range from activating a spotlight search-like feature for Windows, an image resizer tool, performing a batch operation on files, and managing keyboard shortcuts and button mapping.
The fun doesn't stop there though! You can also enable keep your system awake with the PowerToys awake feature and pin a particular window on top. It will stay there unless you unpin it. Moreover, you can use File Explorer add-ons and enable the preview feature for certain file types synch as PDF, SVG, and more. You can download this best Windows customization utility from the store for free.
Noteworthy Features
Use File Explorer add-ons

Image resizer feature

Manage keyboard shortcuts 
Juggling multiple social media accounts on different platforms is a headache on Windows. Why install separate apps, or open multiple tabs when you have Franz? The developer identified a potential problem while opening and overseeing multiple social accounts and came up with Franz.
Rather than installing WhatsApp, Instagram, or Telegram apps separately, you can just install Franz and connect all your accounts there. Now, you have a single app to manage and view content and notifications of multiple platforms.
The free version offers the feature to add only three services and showcases ads. If you want to get rid of these issues you can opt for a personal plan which removes ads, dark mode support,  and offers spell-checker support and the addition of up to 6 services. Moreover, you can use Franz on older versions of Windows (7 and 8.1) without any issues.
Noteworthy Features
Add multiple services

Dark mode 

Spell-checker 
ShareX lets you capture screenshots and recordings. But wait, you can capture screenshots using the Snip and Sketch tool on Windows 11, right? Yes, you can do that but you cannot capture context menus or popup menus with the Snip and Sketch app. This is where ShareX comes into the picture.
It is a free tool to capture screenshots with loads of customization built into the app. You can use the default screenshot hotkey or map a new one that seems convenient to you. After that launch the app and it will quietly minimize to the system tray. Just press the hotkey to capture a screenshot and you will hear a shutter sound.
After that, you are in complete control. You can save the screenshot to the disk, upload it to an image-sharing site like Imgur, annotate, or even discard the screenshot. ShareX allows you to set tasks that execute after you capture a screenshot or recording. If you compare its features with the default "Snip and Sketch" app, you will realize that ShareX is a goldmine and is absolutely free to use.
Noteworthy Features
Upload images

Map hotkeys

Save to disk and annotate images
Canva isn't just a design app now. It is a powerful tool to create beautiful presentations, and designs, whether you need it for work or school. Recently, Canva introduced a Magic Write feature with the doc app that writes content for you. It uses AI to generate content based on Natural Language Input.
So, Canva has moved way beyond the role of being a template-focused design software. You can share presentations with Canva Deks, which makes it a powerful collaboration tool. Canva used to be a web-only service for many years but now it has a dedicated app available both on the website and Microsoft Store. You can download and even share your designs with anyone who uses Canva.
If you are looking for a cheap design app for Windows 11, Canva is certainly a befitting choice. But keep in mind that premium, eye-catching design elements are only available to paid members. However, most students and professionals are content with Canva's free tier.
Noteworthy Features
Hundreds of design templates

Powerful collaboration tool

Freemium app
We all have tried emulators to run Android apps on Windows PC. But the performance wasn't good and there was always skepticism associated with these apps. Microsoft launched Windows Subsystem for Android which is an official emulator that allows you to run Android apps on your Windows PC.
It can run Android apps available on Amazon AppStore and the library isn't as vast as you get on Google Play Store or other third-party Android app stores. But you can even sideload apps with a few tricks and get them working. WSA uses virtualization technology, so you need a decent Windows 11 system to use Android apps without any issues.
WSA is only available in a select few countries as of now but you can change the region of your Windows 11 PC and get access to the utility. It is free but you will need an Amazon US account to access the Amazon App Store.
Noteworthy Features
Run Android Apps 

Admissible app performance

App Sideloading is possible
Windows 11 is the latest kid on the block and definitely riddled with tons of tracking features. You can disable tracking and advertisements to some extent but they still manage to creep up. While Microsoft does it for the sake of improving the "user experience", we hardly believe that. 
If you put your privacy at the top of the priority chain, you must try O&O ShutUp10++. It is a free app that disables all forms of tracking Microsoft performs in Windows 11 and 10. Right from small things such as web tracking, forcing the usage of Cortana, telemetry settings for Microsoft Office, pointless app suggestions, and more.
O&O ShutUp10++ has an exhaustive list of settings that you can disable along with a color indicator to denote its significance. The app also supports dark mode and works with Windows 11 and 10. It is a portable app that doesn't require any installation and is also a Gold Microsoft Partner which means you can trust the app. Remember to create a restore point first!
Noteworthy Features
Block settings with one-click

Free to use

Supports Dark Mode
Conclusion
These were the 15 best apps for Windows 11 that you should install right away. Microsoft is fixing kinks with this new operating system but you don't have to wait for a useful feature when you have PowerToys. Similarly, for customization enthusiasts, Lively Wallpaper and Start11 will do the job. There are many free alternatives to Start11 that you can try if you hate the idea of spending money on Windows 11 customization. Lastly, please install f.lux if you want to tone down the harsh white light.
FAQs
What apps work on Windows 11?
Microsoft Store contains all the popular apps that you would need or want on your Windows 11 system. However, you may not find some apps on the store which isn't an issue. It is because even if there isn't an app for the service, it most probably will have a software program for Windows. 
What cool things can Windows 11 do?
Windows 11 can do a lot of nifty tricks such as offering tabs feature in the File explorer app, running Android apps on Windows using WSA, offering virtual desktops using Task View, Widgets, and much more. You have to try it if you haven't already. But it is slowly removing items from the Control Panel and shifting them to the Settings app.
Can Windows 11 run Play Store apps?
Yes. Microsoft offers WSA which lets you run Android apps available on the Amazon App Store. You can also sideload applications from the Play Store but it may not always work. Many apps need Google Play Services, and that integration hasn't happened yet, so such apps won't work.
What are Windows 11 Disadvantages?
The biggest gripe is moving settings from the Control Panel and enforcing stern hardware requirements. We understand that Microsoft wants to make it more secure but it should not act as a detriment to stop users from trying it. Apart from that, you have to sign in to the system using a Microsoft account which seems a bit excessive. 
Can Windows 11 run mobile games?
The current app library is very limited on the Amazon App Store for Windows. You can sideload games that you love playing on your mobile phone. But if they require Google Play Games to run, you cannot do anything. You can try out Bluestacks or other emulators though!