The immensely popular Yuzu Nintendo Switch emulator has achieved yet another remarkable milestone by making its way to Android devices.
This exciting development brings about a host of improvements, delivering an exceptional gaming experience across a diverse array of titles tailored to each individual device's capabilities.
The official Yuzu website has recently unveiled the highly anticipated launch of the emulator on Android, accompanied by a wealth of additional details.
They have refined the hardware requirements to ensure seamless and enjoyable gameplay. This groundbreaking advancement signifies Yuzu's unwavering dedication to providing gamers with unparalleled emulation capabilities on the Android platform.
Still in the Early Stage
You should note that this release is in the early access stage, and there is no guarantee of its functionality on your specific device.
Suppose you are eager to dive into the experience. In that case, the developers recommend having a Snapdragon 865 device or newer (with a minimum preference for Snapdragon 8 Gen 1) and a minimum of 8GB RAM to ensure optimal performance.
The emulator specifically relies on devices equipped with Qualcomm Snapdragon SoCs, featuring Adreno GPUs. You can head to Yuzu's Discord channel to learn more about it.
Therefore the devices powered by other SoCs, such as Exynos and MediaTek might encounter compatibility issues due to less optimal GPU drivers, making it unlikely for the emulator to function smoothly on such devices.
Testing the Waters
The team has generously shared performance data obtained from testing various games on the Samsung flagsips.
From the data, it appears that a significant number of games are playable without any additional adjustments, showcasing the emulator's impressive compatibility.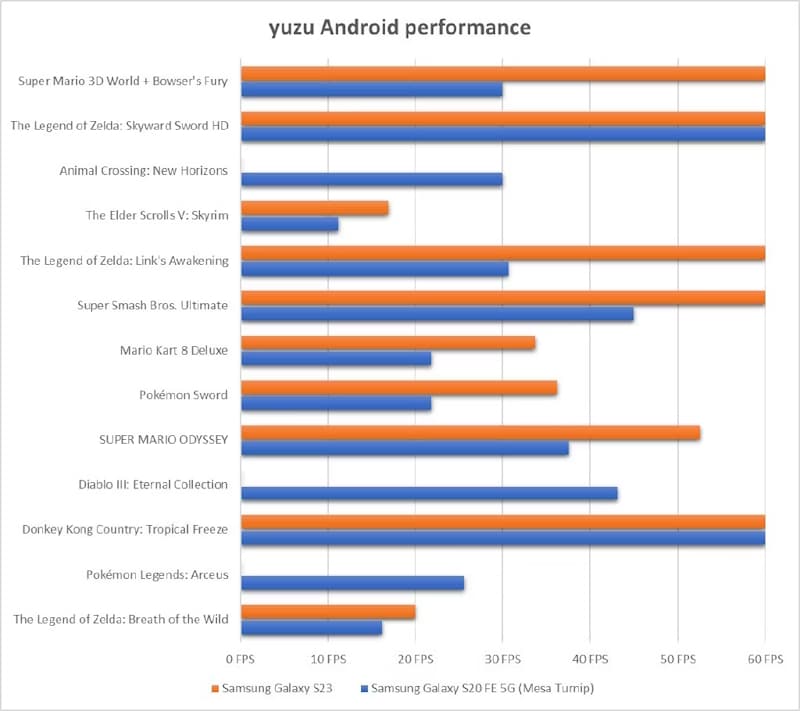 For instance, popular titles like Super Mario 3D World + Bowser's Fury have been successfully tested and found to be fully playable on a Samsung Galaxy S23 device.
This highlights the emulator's capability to provide an enjoyable gaming experience on compatible Android devices.