The seven years long life span of PS4 will now come to an end as Sony has recently announced PlayStation 5. Since its advent in 2013, countless exclusives like Uncharted 4: A Thief's End, The Last of Us Remastered, Gran Turismo Sport, and many more have been launched for the PlayStation 4 platform.
Thanks to few trustworthy PS4 emulators for PC, it's now possible to play PS4 exclusive games on a Windows PC.
In this article, we have compiled a list of some working PlayStation 4 emulators for Windows 10/11 PC that we tested and found to be working. 
ALSO READ: Best PS3 Emulator for Android That Are Working
---
Is There Any Real PS4 Emulator For PC?
Yes, there are only a handful of PS4 emulators for PC that function as advertised and allow users to run PS4 games on Windows computers.
As you might know, PS4 is a relatively newer and highly resource-demanding console.
Consequently, it's fairly difficult to emulate the software ecosystem of PS4 on a PC. Due to a large number of fraudulent and unreliable emulators, most real emulators of PS4 always have some controversies surrounding them.
---
Best PS4 Emulators For PC/ Run PS4 Games On PC
1. PCSX4 
The first best PlayStation 4 emulator for Windows 10 is PCSX4. Despite being a recently developed emulator, PCSX4 gained immense popularity as it can actually allow you to play PS4 games. In addition to Windows, PXSX4 is also compatible with macOS, which makes it the only existing PS4 emulator for Mac.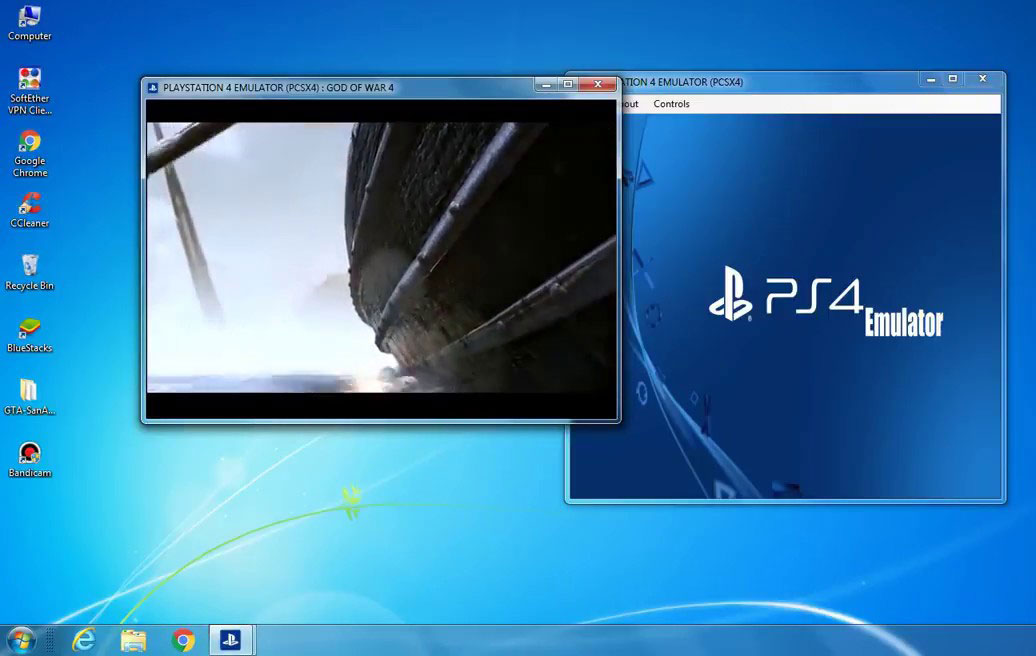 PCSX4 relies on OpenGL, Vulkan, and DirectX 12 as its back-end API renderers. If you own a high-end PC then you can run most PS4 games at an average of 60fps and beyond. The official website of PCSX4 clearly states that if your system has a dedicated GPU Vulkan support, then you can expect a decent performance.
Presently, PCSX4 doesn't support 32-bit operating systems it only supports 64-bit Windows 10/8.1/ &7 OS. Based on your preference you can either use keyboard & mouse or Xbox and PlayStation controllers for playing the games.
It is worth noting that PCSX4 is still in the beta stage and you will experience some glitches while playing PS4 games. Before installing PCSX4 emulators on your computer ensure that you fulfill the minimum system requirements mentioned on the FAQ page of the PCSX4 website. 
---
2. PS4Emus
Initially released in 2013, PS4Emus is the next best emulator for running PS4 games on PC. From the past five years, this emulator is being developed, modified, and the developers are releasing adjustment upgrades on a regular basis. 
At last, PS4Emus has started receiving positive reviews. This feature-packed emulator for PS4 is available for both desktop and mobile devices and it supports Windows, macOS, Android, and iOS. One of the major highlights of PS4Emus is its online server that contains the PlayStation games. You can directly download supported PS4 games from PS4Emus.
The performance of every game will heavily rely on the hardware configuration of your computer. PS4Emus comes with built-in support for BIOS and similar to PCSX4 its completely free to use.
As for downsides, PS4Emus doesn't support connectivity to the PlayStation network. 
---
3. Orbital PS4 Emulator
The last best genuine PS4 emulator on the list is Orbital PS4 Emulator. Developed by the well-known developer AlexAltea, Orbital PS4 Emulator is still under development and unlike the previously mentioned developers, it emulates PS4 console OS and not the full x86-64 CPU. 
Upon the completion of this emulator, it will be available for Windows and Linux OS. Unfortunately, as of now, you can't run any commercial PS4 games using this Playstation emulator. The developer has clearly stated that Orbital will only function properly on high-end laptops and desktops. A minimum of 16GB RAM will be required to even launch any game. 
Lastly, Orbital PS4 Emulator is open-source and it will be completely free to use.
---
4. fpPS4

FpPS4, a PS4 emulator designed for Windows x64, functions as a "PS4 compatibility layer (emulator) on Free Pascal," according to its developer. Currently in the early stages of development and intended solely for amusement, FpPS4 has already successfully run a number of commercial games.
You can check the complete list of support games through their compatibility section. Currently, FpPS4 has the ability to run several commercial games. The compatibility list indicates that 81 games are deemed "playable" (60 being commercial and 21 being homebrew), while an additional 65 are classified as "ingame" (suggesting that they may have significant glitches and issues).
Some of the games that fall under the "playable" category are Sonic Mania, Super Meat Boy, Undertale, 10 Second Ninja X, Uncanny Valley, Asdivine Hearts, and Shutshimi. It is worth noting that a decent GPU/CPU is required to achieve playable frame rates.
---
What Are The Problems With PS4 Emulators?

PS4 was the first gaming console that made 4K gaming mainstream. The console packed powerful hardware and every single game for PS4 was heavily optimized to ensure smooth performance. It's almost impossible to build a Windows PC with the exact same hardware configuration as that of PS4.
Spine emulator has made a dent in this space with gradual but consistent development. They have managed to take hundreds of games in the game, but that's about it. We are yet to see a playable game.
Consequently, developing an emulator that can run PS4 ROMs is a fairly difficult task. As of now, only a majority of PS4 emulators are still in the beta and development stage and the rest are fraudulent.
In fact, due to this very reason, we have only shared three emulators in this list.
Some other emulators that you should keep an eye on are,
PS4 EMX (under development)
SNESStation Emulator for PS4
---
CONCLUSION
So these were some of the PS4 emulators that are worth checking out. We will continue to update this post as more and more emulators come into existence.
If you come across any reliable PS4 emulator, then do let us know about it in the comments section of this article.