Sega's sixth-generation console was supposed to be a redemption for the loss of their market share, owing to PlayStation 2's widespread popularity and success.
Dreamcast was the final nail in the coffin for Sega's ambitions in the console market. It was their last console that put curtains on their 18-year long stint in the console war.
The farewell console did not make a significant mark in the sales, but some avid fans would like to play Dreamcast games again, preferably on their computer.
So here is how you can play Dreamcast game on your Windows PC or MAC using an emulator.
We have tested all these Dreamcast emulators and found them to be working fine
Best Dreamcast Emulator for PC
REDREAM
nullDC
Chankast
RetroArch
Reicast
Makaron
DEmul
First Dreamcast emulator is a do it all kind. It has game compatibility of over 85% of the Dreamcast game library.
The Sega console emulator comes preloaded backend configurations, meaning you can load your ROMS and start playing right away.
You can connect upto 4 controllers with support for Xbox 360 controller, keyboard, amongst others. Meanwhile, the support for Xbox 360 controller lies between average to good.
Talking about the graphics and display, the emulator supports upto 4K with an optional polygon sort accuracy feature.
While the emulator is free to download, you can contribute to support the development of the free project by upgrading to the premium version.
---
nullDC is an open-source project and does not have a website. It is hosted on Google codes, and you can download it from there. We would recommend the non-Naomi version as it works the best.
The emulator requires a BIOS, and you can borrow one from your Dreamcast console if its still lying around.
Before going further, we have to talk about the part, which is a tad complex than REDREAM. The controller on nullDC requires a plugin to work with the games. Head to Options > Plugins and find the Maple section, which requires your attention.
Although the default plugin works for generic controllers, some Xbox 360 controller user have complained of problems. You can switch to the PuruPuru Dreamcast controller to get things going for you.
Audio and graphics work amazingly well for most games with minor glitches in textures for some of the games. There is a high level of game compatibility, but we cannot term it as perfect since it is not possible with limited resources and time.
---
It was difficult to get hands-on the working file(compressed) of Chankast, and the one available abundantly on the Internet is corrupted. Chankast was the first Dreamcast emulator to run commercial games developed for the Sega console.
There are two CDROM plugins along with an input plugin by ElSemi. In the controller department, 4 connected devices are supported along with the VMS support for cartridges. On top of that, there is an external input plugin developed by Darkman, which can be used for better controller compatibility. 
In cable type, there are two configurations, VGA and NTSC. Talking about cheats, there is support for the Capricorn Hack.
The VmsBrowser included in the emulator has a user-friendly UI to browse your game ROMS stored on your computer. 
---
Reicast is in active development for Android phones while its counterpart for computers has been removed their developer's site itself.
When you open the emulator for the first time, you will be greeted with a message to load your BIOS. Keep your BIOS ready for loading into the emulator.
Two TV composites, VGA and RGB components are supported by the now-defunct emulator. Talking about controllers, you can set upto 4 devices, including Sega controller, light gun, keyboard, and mouse.
---
Ask for a feature-rich emulator, and DEmul is your answer. You will need plugins for graphics and audio to run, apart from the mandatory BIOS load up.
Talking about features, there is an option for multiplayer, all thanks to Netplay support. You will need a plugin for it as well.
Similar to nullDC, this Dreamcast emulator also has Maple device manager to manage all the inputs such as controllers, light guns, etc. For the default controller, there is the PAD support whose plugin also needs to be installed.
Apart from being one of the best Dreamcast emulators out there, it also has support for Naomi, Atomiswave, Hikaru, and few other less relevant consoles.
---
Makaron is all about playing your favorite Dreamcast games on PC. There are no fancy frills involved in playing games.
Load your BIOS, game, and you are ready to play. Makaron is based on Reicast, so expect a similar level of game compatibility.
Before we move one, we have to tell you about the general support for Xbox 360 controller, as offered by virtually all other Sega console emulators.
---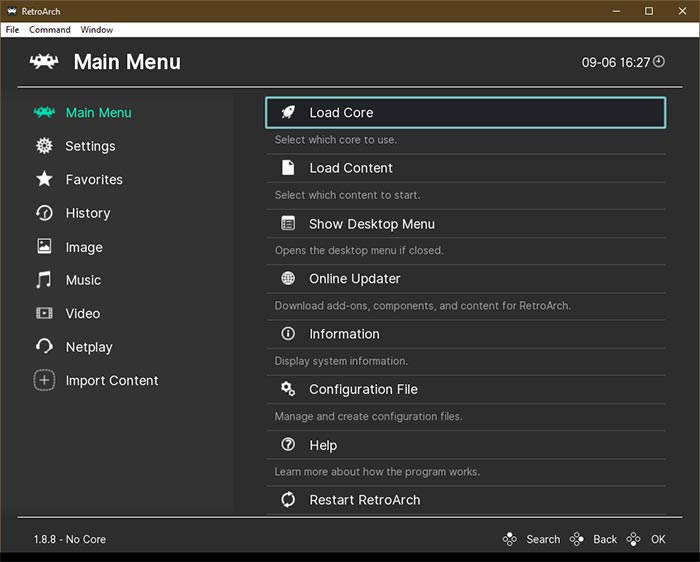 We can play all around and come back to the king. Same emulator, same place but for a different console. RetroArch is THE emulator to have for playing games of virtually all consoles on your computer, smartphone, and even smart TV.
The good news is that this Dreamcast emulator works flawlessly on Apple TV as well.
As we have said in the past, it has a multiplayer option via the Netplay, textures, and details plugins are also available.
There is an option to stream directly from the emulator to Twitch and YouTube. Go the extra mile in your streaming career without requiring resource-intensive third-party applications.
---
Over to You
These were some of the best Dreamcast emulators for PC. You can use virtually any of them to play Dreamcast games on your computer.