Wii was the seventh-generation video console developed by Nintendo. In direct competition to Sony's PS3 and Microsoft's Xbox, it triumphed over the market with impressive sales.
The original Wii came with a Wii remote controller that allowed movement detections in the three dimensions. It practically set a standard for the 3D controllers from that point forward.
You can still play Wii games using the best Wii emulators available for PCs. All you need to do is download, install, and load your original game to play.
Specs of Wii Emulators
| | |
| --- | --- |
| Memory | 88MB Main Memory(3MB embedded in GPU) |
| Storage | 512 MB in-built NAND Flash. Extendable upto 2 GB using SD card |
| Video |  480I (NTSC), 480p (PAL & NTSC), or 576i (PAL/SECAM). |
| Audio | Built-in Speaker with Stereo-Dolby Pro Logic 11 |
| Ports and Connectivity | WiFi connectivity, Bluetooth, and 2 USB Ports |
---
Best Wii Emulators
Here are the best Nintendo Wii Emulator to play Wii Games on Your Windows PC.
Dolphin
Cemu
GCEmu
Dolwin
SuperGCube
WhineCube
GCube
CubeSX
Cube64
GCSX
Dolphin is a versatile Wii emulator that can be used to play Wii and GameCube games. In the past, we have written a guide to install and use Dolphin emulator on PC.
You can use the original Wii controller to play games on the emulator. Alternatively, the PlayStation, Nintendo Switch, or the steam controller also work with the help of DSU(Alternative Input Store).
As it is a cross-platform app, enjoy it on Windows, Mac, or Linux systems. Check the compatibility of different Wii and GameCube games from their support page.
Cemu is the lone working Wii U emulator for PCs. Backed by broad videogames compatibility, you spend a lot of time playing your favorite Wii games. We covered it earlier as the best Wii U emulator for PCs.
Wiimotes are emulated, along with DRC(GamePad), pro controller, and classic controller. Players can enjoy playing online as long as they use the original game dump to connect to the Wii servers.
Owing to its broad compatibility, you can play popular games such as Angry birds trilogy, Mario, and Super meat boy. Check the compatibility of your favorite Wii game from their support page.
GCemu is a GameCube emulator that is far from completion. Currently in early development stages, you cannot expect much from this emulator.
It relies on recompilation and other relative techniques to achieve a decent speed in emulation. You should not expect wide game compatibility as of now from the emulator.
The first-ever GameCube emulator, Dolwin, made few heads turn when it was released. Written entirely in C language, the underdevelopment emulator can run few commercial games. Not before struggling in many popular titles.
According to the developers, the Dolwin emulator's goal is to research the features of GameCube's hardware and reverse engineer the technologies used on the emulator. Their project was revived back in 2020, after laying it dormant for 16 years.
It can be downloaded in the form of a zip file. Unzip it and launch it straight away to test out the emulator.
Based on the discontinued GCube, the SuperGCube relies on the interpreter for emulating games. Because of its efficient emulation core, you can expect efficient, fast, and optimized emulation of the games that work on it. One thing to note the application works only as a 32bit based program.
WhineCube is written in C++ and used as a GameCube emulator. Over a dozen games are playable on the emulator. It is amongst the few emulators for this console that work on the Windows 10 operating system.
You can also check the compatibility of games. The emulator has been out of commission for a while, so do not expect any new updates. The source code, however, is available for any developer to take the project forward.
Another open-source GameCube emulator is in its early stages of development. It is targeted at running at least one commercial game without any bugs.
As of now, you cannot run any commercial games on it, focusing entirely on homebrew games.
CubeSX is a PSX emulator for GameCube and newer Wii consoles. Being in the early stages of development, it has impressed with compatibility and speed.
You can use the Nintendo64 emulator on Wii and GameCube using the SD/DVDs of the original games. The emulation relies on the dynamic recompiler and a pure interpreter.
With its latest update, ROM support upped to 512 Mbits. Get ready for gaming as the controller has improved as well with the native GameCube controller.
Last in our post is the GCSX, a PSX emulator designed for Wii and GameCube. You can a lot of the PSX games without many hiccups. Its in pre-alpha stages so keep a watch on its development.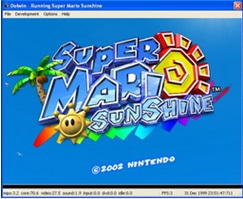 ---
Famous Nintendo Wii Games
1. Mario Kart Wii
Mario Kart Wii is a racing game developed by Nintendo in its sixth installment of the Mario series. It has single: offline, and multiplayer online modes coupled with a four-way split-screen. Gamers can enjoy up to 32 different tracks to race.
2. Resident Evil 4
The Wii version certainly has the horror element to it. The 6th major installment in the game series, it is a third-person game. Resident Evil 4 focuses on adventures, shootouts, and more.
3. The Legend of Zelda: Skyward Sword
An action-adventure game, this is the sixteen entry into the franchise. You play as the protagonist, Link, who navigates through the floating land of Skyloft. The story revolves around solving environmental and dungeon-based puzzles.
4. Dead Space Extraction
A prequel to the original Dead Space, it revolves around rail shooting. Players have some controllers over the view of the camera. Take advantage of the Wii remote to point at enemies, which can also be controlled using the Wii Zapper.
5. Metroid Prime Trilogy
Witness the epic saga of the Metroid trilogy, which takes you on the journey of the future in an open-ended world. The gameplay involves solving puzzles, shooting enemies, and platform jumping.
---
Over to You
These were some of the best Wii emulators that actually work. You can try playing Wii games on PC using these emulators.
You can use the Dolphin core on RetroArch for playing Wii games, but that's not as reliable as using the original emulator.