The 8-bit video-gaming generation was defined by the two stalwarts of the gaming industry. While Segway was making headway with their Master System III, Nintendo launched their Nintendo Entertainment System(commonly known as NES) in the wake of the video game crash of 1983.
Furthermore, Nintendo upped the ante of gaming development with the introduction of licensing game development rights to third-party companies. This has become a norm now, but it was Nintendo that started it way back in the 80s.
Japanese video game designer and a Nintendo legend, Masayuki Uemura combined the philosophy of cheap and affordable with conventional cartridge-based console instead of the 16-bit with computer components. It helped them gain a broader appeal.
Best NES Emulator for PC
Here are the best NES emulator for windows PC that works.
Mesen
VirtualNES
Nestopia
RetroArch
Jnes
BizHawk
FCEUX
Nintendulator
higan
Nemulator
Dolphin Emulator
1. Mesen
The most accurate NES emulator for computers has to be on top. It supports virtually all the licensed games ever published for NES. You can play most NES games using this emulator.
As soon as you launch the emulator, the configuration wizard pops open on the screen. The wizard consists of options regarding the profile data storage location and input mapping. Input mapping involves selecting between different gamepads and the keys of the keyboard. You can configure the input later on as well.
In any case, if you are in a hurry, and have no time to shut down the game, worry not. A much need feature that every game wishes for is the automatic save-state for scenarios when you turn off the emulator abruptly. Never lose your save-state when in a hurry.
Talking about the features that stand out, there is an audio equalizer dashboard, a cheat finder, a wide range of video filters, and an overlock system to reduce slowdown in the games.
Secondly, there is a sound and video recorder for capturing the gameplay. Additionally, we get a media player that can play the recorded videos inside the emulator itself. For multiplayer purposes, Mesen has Netplay to play games online with other players.
Download Meseen
---
2. VirtualNES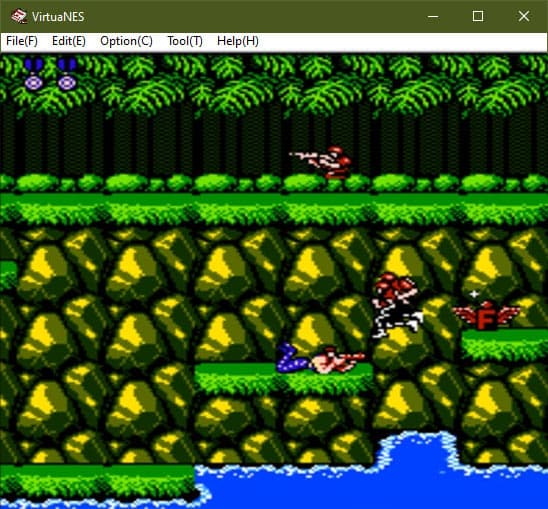 The relatively new kid on the block, straight from Japan. The developers have released an English version after multiple requests by the fans.
You will find the Japanese origin NES emulator for PC on the more unaffected side of the spectrum of things. On top of that, we can see a TV Frame option that shows the borders of a TV on display, adding a nostalgic and retro feel to the experience quotient. Secondly, there is Netplay for multiplayer gaming.
When you feel like having fun, there is an entire setting dashboard dedicated to cheats. The panel consists of Game Genie cartridge along with a cheat code finder.
A total of 4 controllers can be connected, and different FPS limits can be set for each controller. Additionally, there is virtually a hotkey for each feature and function of the emulator.
For running the emulator, users will require the latest version of DirectX, apart from a modest computer with relatively low-end configuration.
Download VirtualNES
---
3. Nestopia
A rather accurate and famous NES/Famicom emulator for PCs has a very high range of accuracy for NES emulation.
We have mentioned Nestopia in our list of the best SNES emulators for PC as well. When we start with the features, there is the standard Netplay support for multiplayer online gaming. 
Thereafter, we have an elaborate cheat dashboard for ease-of-use coupled with an auto-save feature that automatically saves-state for helping you save game progress.
Additionally, gamers can record music of the game with a dedicated sound recorder provided in the famous NES emulator. After all of that, when you get bored playing games, there is a media player that can play .avi files on the emulator.
The original developer halted the development way back in 2008. It was continued by another developer under the name "Nestopia Undead Edition." Unlike the older versions, Nestopia is now an NES emulator for Mac as well, along with FreeBSD, Linux, and Windows, of course.
Alternatively, Nestopia is also available on RetroArch as Libretro core.
Download Nestopia
---
4. RetroArch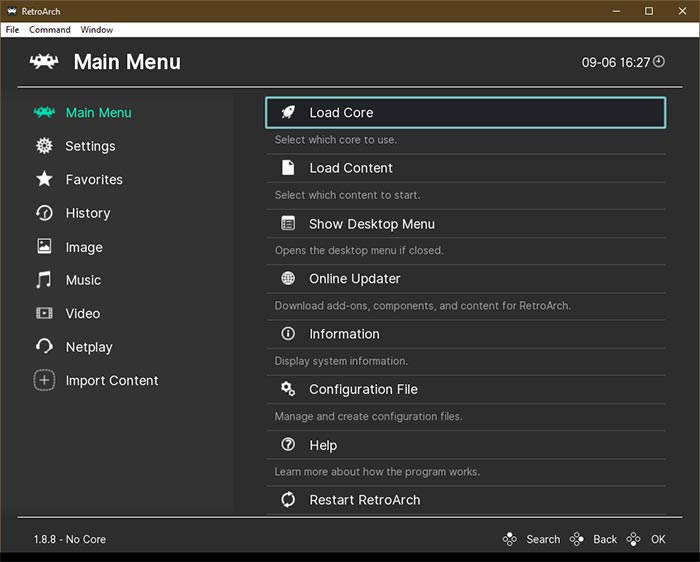 RetroArch is an emulator upon which we have showered a lot in its praises in the past. It has been mentioned in various of our lists, involving a wide variety of consoles.
Also Read – RetroArch is now on Steam with 10 cores
The all-rounder emulator has everything you would want for gaming to be considered amongst the best NES emulators out there. Backed with Netplay for online multiplayer, there is something for everyone in the store, including the video game streamers. RetroArch offers dedicated support for directly streaming games from the emulator to YouTube or Twitch.
When we talk about the standard set of features, we find a plethora of settings such as game latency, video calibration, and more to customize the emulating experience. Additionally, there is a multimedia playback support inside the emulator itself.
Before we forget, RetroArch is a multi-platform supported, meaning you can this NES emulator on Mac, Linux computers as well.
There can be times when you don't feel like installing RetroArch. For such scenarios, you can use their NES emulator online, named Libretro
Download RetroArch
---
5. Jnes
Contrary to what we have read about it, Jnes has taken quite a leap as an NES emulator for PCs. The user-interface is reasonably modern, backed by more straightforward settings and function panels. There are two regions, NTSC and PAL.
In the audio department, there is a generic mixer and a graph to fiddle with the sound. On parallel lines of video settings, there is a native resolution option that supports the resolution of your computer's monitor. 
Opposed to leading emulators, Jnes offers Kaillera for multiplayer instead of the industry-standard Netplay. 
Download Jnes
---
6. Bizhawk
A modest-looking emulator packed with helpful tools such as Tool-Assisted Speedruns(TAS) for gamers who want to finish the game in a short period. The feature-rice TAS offers a powerful combination of slow motion and key-mapping.
On top of the speed-run tool, there is an advanced macro-script tool with console for automating and scheduling certain events in the game.
Download BizHawk
---
7. FCEUX
The next emulator for Nintendo's Family Computer is a piece of software, that has been inspired by various branches of FCE, such as FCE Ultra, FCEU rerecording, FCEUXD, FCEUXDSP, and FCEU-mm.
Any gamer interested in online gaming can use to old school method of joining a lobby through the IP address, port number, password, etc.
Coming to tools, there is the TAS, similar to the one Bizhawk for speedrunning the games. Secondly, there is an auto-fire feature for games that are requiring precision with the pointer. 
Turning back to the talk about the standard features, we have cheats and movie players (avi and movi formats), 
Download FCEUX
---
8. Nintendulator
What started as an NES code tester has turned into a pretty accurate emulator for NES on Windows.
Apart from the standard audio and video settings, there is an option to record gameplay directly in .avi format. Secondly, you can connect upto two controllers to the emulator, with an optional expansion port for other devices.
For players who enjoy using cheats will like the Game Genie cartridge support. Other than that, gamers can manually slow down the game from the PPU settings.
It supports the following formats of NES ROMs –.NES, UNIF, FDS (fwNES format), and NSF
Download Nintendulator
---
9. higan
higan is a highly rated and amongst the best Nintendo Entertainment System emulator. Thanks to its versatility, it works as a SNES emulator for PC as well.
The portable NES emulator for Windows 10 and other versions has a quick-turn for downloading and launching to play the games. 
After launching higan, it is a mere 10-second setup to create a system that will act as a profile for NES emulation, since it can emulator other consoles as well.
Other than the standard settings of audio and video drivers, there is the generic key-mapping and aspect ratio correction. 
Download higan
---
10. Nemulator
The easiest and frill-free Famicom emulator that runs NES games on PC without waiting for anyone. There are no options menu or dashboard.
You can learn about the keyboard shortcuts for various in-built settings. To load a ROM, you will have to put the ROM files into the designated ROMS folder, whose address appears on the screen.
Running Emulator requires Windows 7 or above with DirectX 10 and x86 Visual C++ 2015 Redistributable Package installed from the official Microsoft site.
Download Nemulator
---
11. Dolphin
Last in our list of the best NES emulator is the Dolphin emulator. It was earlier designed for Wii and GameCube games but has started supporting NES emulation in recent versions. 
Dolphin is a multi-platform emulator, which means that it is used as an NES emulator for Mac computers. The features are pretty standard as compared to emulators like RetroArch, Higan.
Backed by GameCube experience, the Dolphin emulator has managed to provide broader compatibility to most NES game titles that can be checked from here.
The first time installing can be daunting. Therefore you can refer to installation guides, such as one as this.
Download Dolphin Emulator
---
Are NES emulators legal?
Emulators are legal, but NES Roms are not as they violate copyright laws. Downloading and using any NES Rom without the permission or proper license of the creator is completely illegal.
You can borrow the discs from public libraries or the nearest game store for playing NES games.
Over to You
That was all for this post. Hope you liked our post on the best NES emulator PCs. For any reason, if you don't want to install emulators onto your PC, you can use the NES emulator online, such as Nes Box, which is similar to Libretro.